'Hacksaw Ridge' Review: We Don't Need No Stinking Guns
The true story of Desmond Doss is one of amazing heroism and courage. During a particularly bloody, violent battle in Okinawa, Japan, during WWII, Doss, a conscientious objector who refused to even touch a gun, saved 75 soldiers by using his brain, his body, and his faith. His story is one that resonates even to this day as our war culture continues decades after the worst conflict this planet has ever seen. In the new Mel Gibson film Hacksaw Ridge, Doss's story is finally told, and his incredible act of heroism makes for a wonderfully brutal war film, that may go down as one of the best ever filmed.
Hacksaw Ridge stars Andrew Garfield (Amazing Spider-Man, 99 Homes) as Desmond, a young man from Virginia who falls for a young nurse (Teresa Palmer), and enlists in the Army solely because that's what his friends did. His enlisting doesn't settle well with his abusive, alcoholic father (Hugo Weaving), himself a veteran of WWI, and a man who lost all of his friends in the great war. But Desmond defies his father's wishes and goes off to war, even though, as a Seventh Day Adventist, the concept of war (and of working on Saturdays) is forbidden.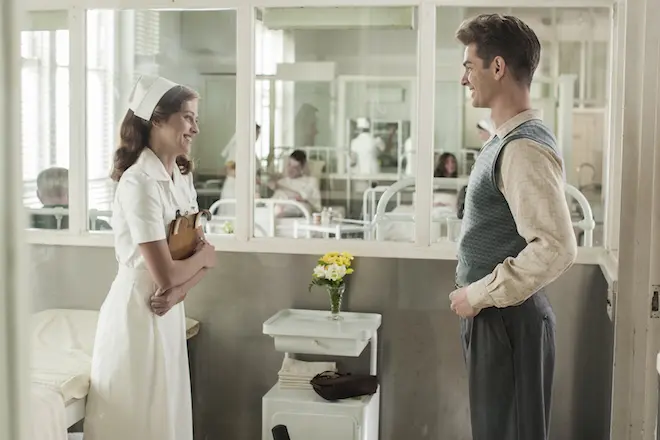 Doss joins the 77th Infantry Division and heads out to basic training. There he meets his fellow soldiers, and his training officer, Sgt. Howell (Vince Vaughn). Howell, and Doss' captain, Glover (Sam Worthington), and the hierarchy of the 77th and the Army itself try to force Doss to fire a weapon, but he refuses over and over, up to the point that he is tried for a court martial. A last second save puts Doss in the medic corps and he and his division are sent off to the Pacific Theater.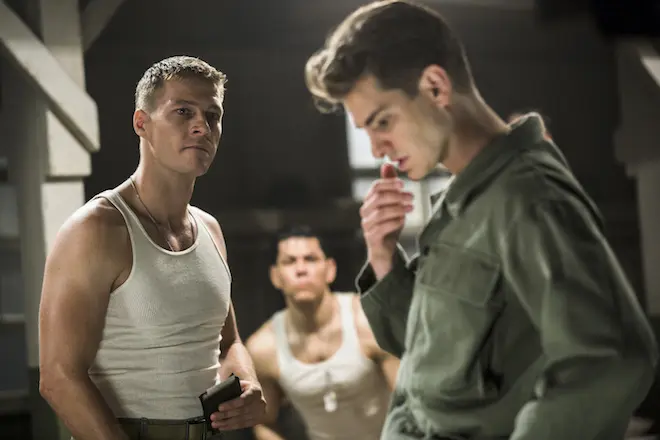 Here is where Hacksaw Ridge changes gears. The first half of the movie is spent laying the foundation for who Doss was and why he chooses to not use a weapon. The conflict with the U.S. Army is nothing compared to what is to come at the Battle of Okinawa. It is here that the film goes all in, and director Mel Gibson flexes his visual muscles. The latter half of Hacksaw Ridge is one of the most violent, heart-wrenching hours I've seen in a film in over a decade. Gibson has no problem showing the audience the horror of war, taken to the farthest extremes. This is gory, graphic, and gratuitous.
And with Hacksaw Ridge now a full-fledged war film, Doss and company face some pretty grievous threats from some well-entrenched Japanese battalions, which helps push the point home of how incredible the deeds of Desmond Doss were. Because Gibson (Passion of the Christ) is well known as a man of faith, Hacksaw Ridge does begin to get preachy near the very end. The final battle scenes are a little too clean in their resolutions, and there is some Christ-like imagery, as if Gibson is arguing that what Doss did was ordained by God, but this does not detract from the power of the rest of the film.
As a whole, Hacksaw Ridge starts off with Doss as a young boy, and tells his entire story, up to and including real life footage of interviews with an elderly Doss and the men he saved at the very end of the film. This is Desmond Doss' story, told against the backdrop of one of the bloodiest battles fought in the Pacific Theater in WWII. Doss would go on to win the Medal of Honor, the first conscientious objector to ever do so.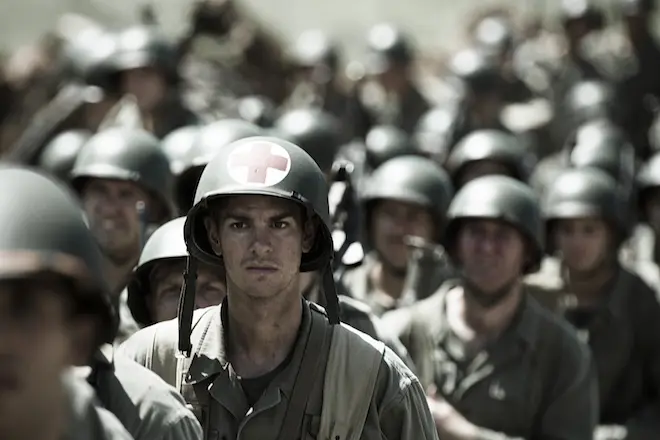 Andrew Garfield is simply magnificent as Doss. Garfield has slowly worked himself into the upper echelons of acting, and Hacksaw Ridge is his graduation. This is top level acting, and his name will be mentioned in awards circles this season. Hugo Weaving and Vince Vaughn both shine in their roles, with Vaughn taking his wisecracking to a new level as a wartime T.O., giving out the requisite nicknames to his cadets and making fun of the tiniest things. He creates laughs, all the while the rest of the film is drowning in drama. Vaughn is the life preserver through that, and when the battle starts, he switches to soldier mode. I'm not sure I've seen this level of acting from Vince Vaughn before, but I do know that I like it.
All in all, Hacksaw Ridge is reported to be an anti-war movie; a film that shows us that a man without a gun can still be a hero, can still save the day, and that war in and of itself is a dirty, bloody business. In this way, Mel Gibson succeeded in his goal, as I will not soon forget the battle scenes in this film. And as I watch the daily news of war and conflict all over the world, I will reflect back on this film and sympathize with what soldiers go through; what they see and experience on the battlefield, and I hope that one day, war will be a thing of the past, relegated to stories told only in films by future directors, so future generations can look back and see what vicious animals humanity was. Time will tell.
Hacksaw Ridge is rated R and is in theaters now.
TheHDRoom may be paid a small commission for any services or products ordered through select links on this page.