'Fighting With My Family' Review: Living The Dream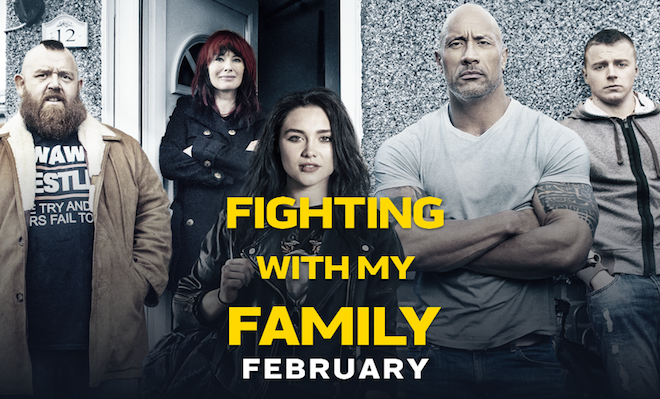 Professional wrestling often gets a bad rap. Critics argue that it's fake (it's not fake, it's scripted), and that fans of the product are a lowbrow sort who enjoy the lowest form of entertainment, which is also wrong. Wrestling fans come from all walks of life, from every social and financial bracket. And the people who wrestle are much of the same. Many grew up watching the shows and some even dreamed of one day making it to the WWE, the de facto top of the mountain for wrestling. Some even come from long familial lines of wrestlers, people who have been doing it not only for years, but for generations. In the new film Fighting With My Family, the real life story of Saraya-Jade Bevis, known professionally as Paige, and her family of wrestlers shines a light on one such scenario, and the film is a fun look at this wonderful world of larger-than-life personalities and the people who often struggle to bring them to life.
Fighting With My Family stars Florence Pugh as Saraya/Paige, a young girl who has eaten, breathed, and lived wrestling for most of her life. Her dad, Ricky Knight (Nick Frost), and her mom, Saraya Knight (Lena Headey), run a small promotion in Norwich, England, called WAW and have been wrestlers for years. Her brother, Zak (Jack Lowden), is the star of the promotion, and he trains local teens on the side, including one who is blind (Jack Gouldbourne). The Knights work hard to run their struggling promotion and to provide for the family, and the parents hope that one day, the WWE will see the tapes of their children and make them superstars.
But while that dream is on hold, the Knights are living their lives, and Zak learns he's to be a father. During a rather funny dinner meeting with his girlfriend's parents (Stephen Merchant, who also wrote and directed the film, and Julia Davis), the call finally comes, and Saraya and Zak are given a WWE tryout by Hutch Morgan (Vince Vaughn).
At the tryout, Saraya is selected and Zak is sent home, which understandably causes a rift, and Saraya has to make a decision to follow the dream for the family, or to support her brother. This is but one of the many layers of conflict in Stephen Merchant's script, which sets the stage for the story to grow and ultimately succeed in telling the tale of Paige's rise to WWE history.
Fighting With My Family is based off a documentary that Merchant saw on England's Channel 4 about the Bevis family and Paige's ascension to WWE superstardom. He teamed with Dwayne "The Rock" Johnson, with whom he starred with in the Tooth Fairy, and wrote a wonderful story. The script deviates from fact in places, as to be expected, and dramatizes where it needs to for story purposes, but the heart of the film — and its message — is intact. Perhaps Merchant's greatest feat here is that he doesn't mine for laughs by making fun of the wrestling industry or its fans. He treats both with utmost respect and finds truly funny moments in the reactions to the absurdity that often goes on in this tough form of entertainment.
Florence Pugh and Jack Lowden both shine as the Knight kids, and Nick Frost steals every scene that he's in, with good reason. Fighting With My Family also features a few cameos from actual WWE Superstars, which helps makes the film authentic, even though there are also some anachronisms that longtime WWE fans will pick up on immediately.
Films about professional wrestling usually fall into two camps: silly, as in 2000's Ready to Rumble, or overly dramatic like Darren Aronofsky's The Wrestler. It's rare that a film like Fighting With My Family can capture what it truly means to become a professional wrestler and pull back the curtain to this wonderful world of big personalities and lingo. In many ways, professional wrestling exists in its own ecosystem, and Stephen Merchant and his cast have been able to tap into that world with satisfying results. Fighting With My Family works for fans and non-fans, and both can enjoy the humor and heart that pulses in this film. And nothing about that is fake.
Fighting With My Family is rated PG-13 and is on theaters now.
TheHDRoom may be paid a small commission for any services or products ordered through select links on this page.