'The Fate Of The Furious' Review: Like Watching Toy Box Porn
Something occurred to me about 40 minutes into Universal Pictures' The Fate Of The Furious. These films are wildly popular, even though they defy all logic, have some of the worst dialogue ever written, are sometimes insulting to the mere idea of intelligence, and are so over the top in almost every way that the audience can't help but get their adrenaline pumping after watching them. But when you take a step back, these films are nothing more than the toy box porn of a creative 8-year-old.
Think about it. You have exotic Hot Wheels cars doing things that cars can't really do, throw in some G.I. Joes, some musclebound He-Man figures, some good old cops and robbers costumes, and in The Fate Of The Furious, a Barbie doll in the form of Charlize Theron, and what you have is a loud, spectacular amalgam of a toy box on steroids.
The Fate Of The Furious picks up shortly after the events of Fast 7, or was it Furious 7, or Fate 7, or … you know what, never mind, It doesn't even matter. Dom (Vin Diesel) and Letty (Michelle Rodriguez) are on their honeymoon in Havana, Cuba, and Dom can't help but get into a spectacularly insane street race for pink slips around the bustling island city. Shortly after, Dom is approached by the mysterious Cipher (Theron) who demands his services, and before Dom can turn her down, she shows him an image on a phone and Dom changes his mind.
Back in the real world, Hobbs (Dwayne Johnson) is coaching his daughter's soccer team when he's approached by a government man with a job. Hobbs accepts and gathers the team to steal an EMP from some bad guys in Berlin. During this mission, things go sideways, and Dom betrays his family and steals the EMP for Cipher, turning his back on all that he holds dear. Hobbs is arrested in Berlin for the crime (yet for some reason goes to an American prison), and there he comes face to face with Deckard (Jason Statham), the man that Hobbs put in a cell in the last film.
Hobbs breaks out of prison, with some help, and is then recruited by Mr. Nobody (Kurt Russell) and his second-in-command, Little Nobody (Scott Eastwood). Hobbs brings in the whole family, including Letty, Roman (Tyrese Gibson), Tej (Chris "Ludacris" Bridges), and Ramsey (Nathalie Emmanuel) and they, in turn, are joined by Deckard, who also escaped the prison, to track down Dom and get the EMP back and find out why he turned on them all.
At this point, just know that car-based mayhem and a lot of macho dick measuring ensues, including from Theron, who may have the biggest dick in the whole film. The car scenes are all completely insane, as with the previous films in the now almost 20-year-old series (think about that for a second). The Hot Wheels-in-the-toy box analogy is never more evident than during a ridiculous chase through the streets of New York that ends with hundreds of cars raining down onto the street below. I watched that scene, and distinctly remember doing something similar to my Hot Wheels back with I wore short pants and had a bed time.
The Fate Of The Furious just keeps amping up the ridiculousness to the point of sublime fun. Sure, it doesn't make sense in places (the filmmakers have no idea how an EMP works, or that fire melts ice), but the car stunts are so incredibly off the charts that it doesn't even matter any more. You know what you are getting in a Fast/Furious movie, and you get it here in spades.
F. Gary Gray (Straight Outta Compton) takes over the directorial duties from James Wan, and he has fun with it — you can definitely tell. Gray's stylings bring a new life and excitement to the franchise, and hopefully he will stay at the helm for the next few films — and you know there will be more.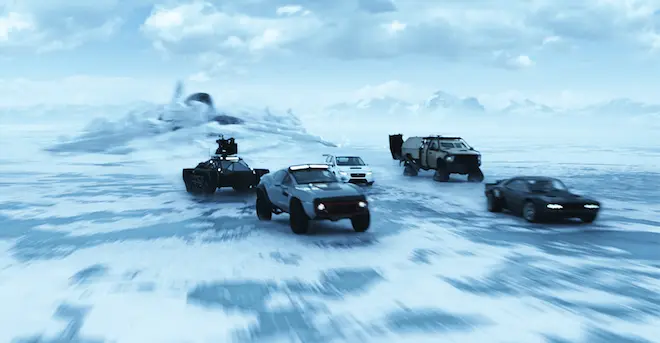 Chris Morgan returns as the screenwriter, and I now cannot stop imagining him as a sugar-fueled 8-year-old, who may or may not be on the spectrum, just pounding the most cliched, macho words that his limited vocabulary can muster onto a keyboard and then selling it to Universal so he can buy new Hot Wheels, G.I. Joes, and He-Man figures for the next installment. And it doesn't even matter. His stories work in these films, and his atrocious dialogue fits, even though it is gut wrenching in parts.
The Fate Of The Furious also succeeds as it doesn't have the specter of Paul Walker's death hanging over it. With that sad business resolved in the last film, the whole production of The Fate Of The Furious is allowed to go wild, and go wild they do. And even though an $800,000 Lamborghini can magically accelerate on a ice cap of a frozen lake, and The Rock is so strong that he can redirect a fired torpedo with his bare hands, The Fate Of The Furious is still an amazingly fun film that excites and thrills and leaves the audience wanting more as the last credit rolls.
The Fate of the Furious takes audiences for a ride, and while these films have sometimes non-sensical plots, the story is moved forward here, for better or worse. The car stunts and action are all that audiences expect from the franchise, and the machismo and dick measuring is on full display. But at the end of the day, the draw of this film, and all the films of the franchise, comes from the fact that it is the perfect escape. For just over two hours, the audience can shut off their brains and are instantly transported into the mind of petulant, creative child digging deeper and deeper into his toy box for new ideas, and I wonder how long it will be until we see these fast and furious cars transform in robots or rocketships, or all combine into one huge super car that can save the Earth from alien invaders who may or may not look like Skeletor. I guess we'll find out when Fate 9 (I'm calling it, that will be the title) hits theaters in two years.
The Fate of the Furious is rated PG-13 and is in theaters and on IMAX starting on April 14.
TheHDRoom may be paid a small commission for any services or products ordered through select links on this page.