'Borat Subsequent Moviefilm' Review: The Mirror Doesn't Lie
The full title of the new Sacha Baron Cohen mockumentary is BORAT SUBSEQUENT MOVIEFILM: DELIVERY OF PRODIGIOUS BRIBE TO AMERICAN REGIME FOR MAKE BENEFIT ONCE GLORIOUS NATION OF KAZAKHSTAN, but we are allowed to shorten it to Borat Subsequent Moviefilm. Hitting 14 years after the last "documentary," the new Borat film takes aim at the "U.S. and A" at a time when we are the most divided, and he pokes fun at Trump, his supporters, COVID, and many other topics, highlighting the divide between the two sides right before the election. On purpose.
Surrounding this series of "pranks" is a story about Borat (Cohen) learning to accept that A) he has a daughter (Maria Bakalova), and B) that she's a person and not a second-class citizen who should live in a cage. Like the first film, Borat Subsequent Moviefilm does not pull punches, setting up cringe-worthy situations, like rather disgusting father-daughter dance at a debutante ball, and letting the cards fall where they may, including a very concerning scene near the end that features Rudy Giuliani, one that has already sent shockwaves around the country.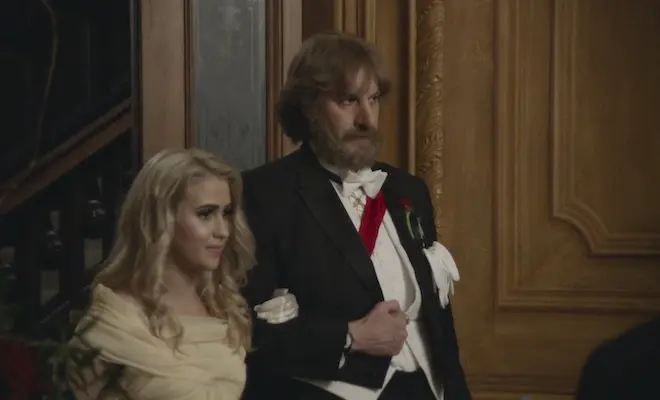 It's no surprise that this film can generate this level of shock; what is surprising is that it can still happen after Cohen has all but created a genre based on this schtick. How do people keep falling for it? Cohen uses disguises, which could help to cover his true intentions, and Bakalova serves as his stand in for some of the bigger gets, like Giuliani, but the fact of the matter is that I spent a good amount of time wondering if this is really happening, or if the "subjects" are in on the joke.
And that's important, as the subjects in Borat Subsequent Moviefilm come off in a very poor light — saying that as lightly as possible. And I can see where some could take huge offense to how these groups of people are portrayed in the film. Unfortunately, those taking the most offense are the ones who see their reflections in the mirror that Cohen is holding up.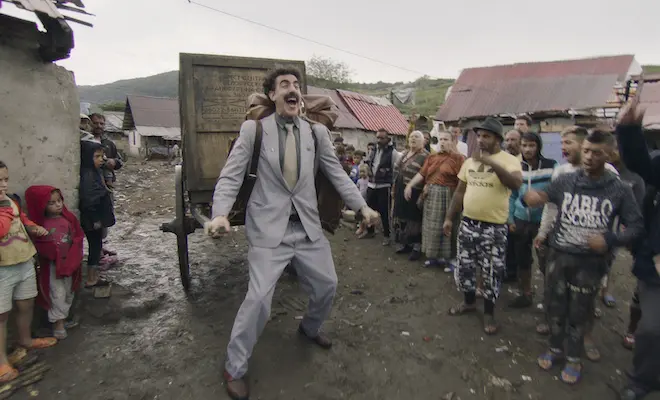 Director Jason Woliner is a veteran of TV comedy, which suits a film like this well, as Borat Subsequent Moviefilm is a series of elaborately filmed pranks surrounded by a narrative scripted by eight different writers, including Cohen, based off a story by Anthony Hines, Nina Pedrad, and Dan Swimer. The narrative portion details Borat (Cohen) being released from a gulag for bringing shame on Kazakhstan with the first film.
Borat is given a mission by his premier to deliver a gift to Mike Pence so Kazakhstan can get into the good graces of the Trump administration. Borat discovers he has a 15-year-old daughter (Bakalova), who sneaks to America to bond with her father and learns much about the role of women outside of her home country. She begins to help her father in his mission to give the gift to Pence, and that gift is now her.
This opens up doorway after doorway for the production to highlight and poke fun of conservatives, primarily in the south and in Washington state. Borat Subsequent Moviefilm takes a turn when the coronavirus hits in real time, and the production is able to pivot to include the simmering levels of frustration from Americans after the country shuts down, making for some very topical humor.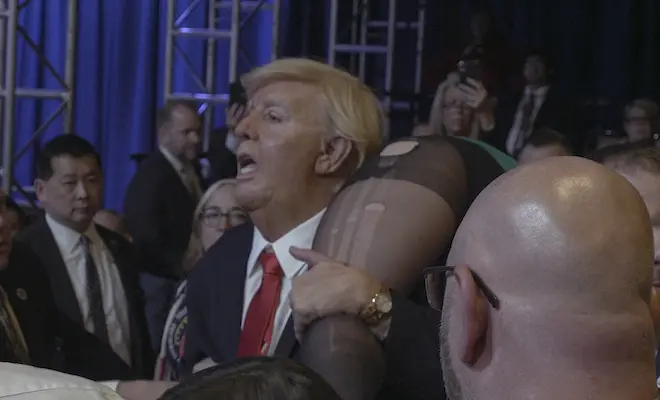 In fact, I had to ask myself, are we ready to laugh at this? Almost 220,000 Americans are dead, and here is a comedy-film pointing out the absurdity of a group of people who still believe the pandemic and virus are fake. That's not for me to decide, as I could only shake my head. And 2020 has been chock full of head shaking.
And the Giuliani scene near the end of the film? It is as bad as you may have heard, which left me cringing and in disgust and seemed to be the perfect punctuation on this film.
Borat Subsequent Moviefilm is a much better, and more topical film than the first outing. Where in 2006, we could laugh at ourselves in how we were collectively portrayed, in 2020, that humor is tinged with a little horror, and as the world continues to unravel and stay divided due to politics, viruses, and general civil unrest. The release of this film is timely, for sure, I'm just not sure that it is the right time.
Borat Subsequent Moviefilm is unsuitable for children under 3, according to the film, and is available to stream on Amazon Prime Video starting on October 23, 2020.
TheHDRoom may be paid a small commission for any services or products ordered through select links on this page.