Annabelle Comes Home Review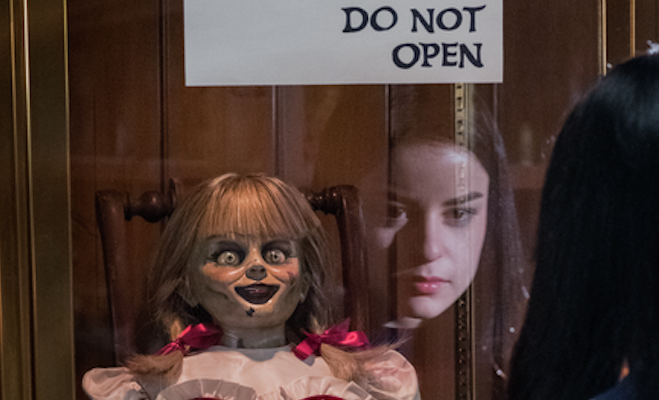 I really enjoy The Conjuring Universe films. James Wan, Gary Dauberman, and the rest have created something unique here; a shared horror film franchise that uses each new installment to further the greater story, all centered around the real life exploits of Ed and Lorraine Warren. The latest chapter is Annabelle Comes Home, the third "solo" film for the demonic doll. This movie is like a demented roller coaster ride that takes a bit to get going, but once it does, hold on to your butts — and your sanity.
Annabelle Comes Home opens with Ed and Lorraine Warren (Patrick Wilson and Vera Farmiga) taking possession (HA!) of the doll from the beginning of the first The Conjuring film, and then follows their eventful ride home with the twisted toy riding in the backseat. This scene lays the groundwork that the demon inside Annabelle has dominion over the spirit world no matter where she is, and after a few jump scares involving a recently killed ghost girl and a cemetery full of angry spirits, the Warrens finally get Annabelle secured in the iconic glass case, blessed multiple times by a priest.
After that tense opening, Annabelle Comes Home takes off with its own story, this one involving Judy Warren (Mckenna Grace) and her babysitter, Mary Ellen (Madison Iseman). The Warrens are often away on investigations, so Mary Ellen is always around to look after the Warren daughter. Judy is starting to exhibit signs of the gifts of her mother — as in she can see spirits. It's a cool trick for parties, but not when your house is a vault for all things haunted, possessed, and scary.
Mary Ellen's best friend, Daniela (Katie Sarife), starts looking for ways to get into the Warren home, especially after a newspaper article exposes them and what they do as "paranormal investigators." Daniela recently lost her father in a car accident, and that survivor guilt is driving her to find a way to reconnect with him and she thinks the Warrens could help, and if not, maybe their "stuff" can.
As you can probably imagine by now, chaos ensues when Daniela gets into the Warren collection room and begins messing with things; namely, the ugly freaking doll in the glass case with the sign that clearly says POSITIVELY DO NOT OPEN. Annabelle feeds on Daniela's grief and exploits it, and uses all the haunted artifacts in the house to try and get the three young girls and the boy next door, Bob (Michael Cimino), during one night of pure terror for them — and the audience.
Annabelle Comes Home once again has that slow burn that Gary Dauberman scripts have used in the past, but Dauberman also directs here, so there's more of a felling of ownership in this world. For each clue dropped about the haunted samurai suit, the killer bride's wedding dress, and the Warren investigation of "the ferryman," we know all of this is going to come back in the third act and scare the crap out of us — and it does. One scene, in particular, involving a slow spinning color wheel makes up probably my favorite scene in all of The Conjuring films, both for the visual acuity and the sense of dread it created.
The third act in Annabelle Comes Home is a ride unlike any other this summer, with scares, laughs, gross-outs, more scares, and the ugly damn doll with the demon inside of her. It doesn't let up until the end, and that long, slow journey to get to this part of the ride is worth it as the credits roll. This is a film you want to see in a theater, on the biggest screen you can, with the loudest sound system, and with a good crowd, as misery loves company, and Annabelle feeds on your misery.
Where last summer's The Nun failed to deliver, by and large, Annabelle Comes Home rights that wrong and sets up the next film in the Conjuring universe, The Conjuring 3, which will reportedly be released next year. That will make eight films in this franchise, and the majority of them have been good, and some have been outstanding. Warner Bros. and New Line Cinema have found something unique here, and in the careful hands of James Wan and Gary Dauberman, this shared universe seems to get better with each film. And by better, I mean absolutely terrifying.
Annabelle Comes Home is rated R and is in theaters now.
TheHDRoom may be paid a small commission for any services or products ordered through select links on this page.