'Utawarerumono: Mask Of Deception' Review: Reading Is Fundamental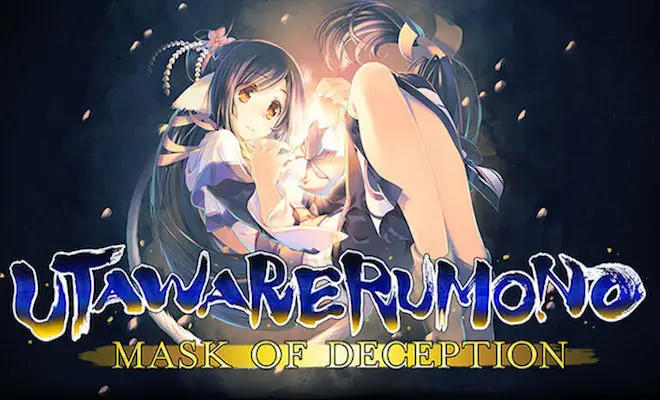 There are plenty of action oriented games on the crowded game market right now that basically offer something for everyone, but the new game, Utawarerumono: Mask of Deception, from developer Aquaplus and publisher ATLUS, takes a break from all of that and offers gamers a charming, pseudo-interactive visual novel. The player will spend hours upon hours reading text and hearing it performed by amazing Japanese voice actors, with tactical battles interspersed throughout the game to keep them engaged. Coming off great epic JRPG games like Persona 5 and The Caligula Effect, both also ATLUS titles, taking a much needed break for something fun and lighthearted was nice.
Utawarerumono: Mask of Deception is the story of a man named Haku, who wakes up one day in a frozen forest with amnesia and meets a young woman with floppy ears and a tail named Kuon. Kuon realizes that the strange man is lost and takes him in, and in so doing sets them both on a path of an epic story in a strange land, with fantastical creatures and tons of fun, creative characters. Easily, 90 percent of the game is reading text and listening to the text being performed in native Japanese by some incredibly talented actors. The game, which I even have trepidation calling it that, involves an epic tale of a mysterious kingdom on the brink of war, yet it keeps the story focused on Haku and Kuon and their immediate contemporaries. This works for the storytelling aspect, as hours — and I mean hours, 40-50 hours — will go by as the game essentially tells you a story.
When the plot calls for it, the story will give way to a tactical, turn-based combat level, where the player equips and chooses the characters to fight with and then battle using a grid-like system, such as in the Fire Emblem and Ogre Tactics/Final Fantasy Tactics franchises. These battles are fun, with some cool attack chain opportunities to pull off for devastating moves, especially as a huge fan of the tactics game genre, but then Utawarerumono will go back to the storytelling. And while it would be so easy to dismiss this "game" just as an interactive novel — which it is — it has the elements that make it a game. Players can opt to replay any battles in a free play mode to raise levels and unlock new skills, which can be a welcome detour from the story. There have been times that I've shut down playing a game like Injustice 2, with all of its action and speed, just to relax and let Utawarerumono cleanse me with its storytelling and strategy battles.
The beautiful art direction, animated cutscenes, and character design help to sell the epic story. Kuon is your typical anime girl — with floppy ears and a tail — and a magic user character named Maroro is so over the top, both is design and in performance, that he solicits laughs by just being on-screen. More and more characters are introduced, and since this is an interactive novel, there are subplots, side stories, and lots of exposition.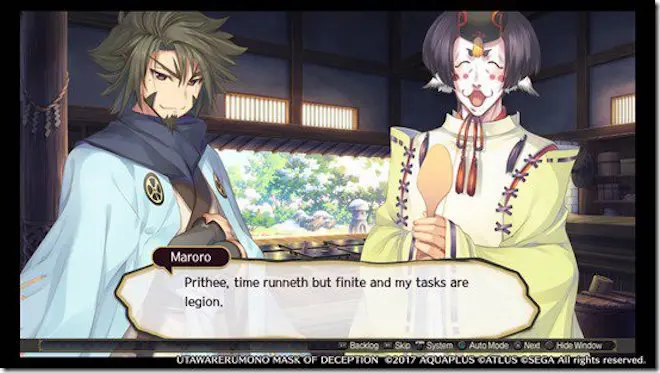 Haku serves as the narrator, and some of the best parts are when we, the audience, get to read/hear his inner thoughts of certain characters or situations. I've laughed out loud countless times, not at jokes, but of the absurd situations that Haku finds himself in. Utawarerumono: Mask of Deception uses sexuality and nudity for laughs, like a classic episode of Three's Company, with misdirection and reaction taking precedent over full on-screen nudity (the art has carefully placed items, like steam, or bubbles from a bath, covering any nude parts) and any raunchiness.
The voice acting, even while performed in native Japanese, is stellar by all performers. I feel connected to Haku because the actor sells it wonderfully. The audience sees this world through his eyes, and the actor conveys it all splendidly. In addition to the top-notch voice acting, the musical score is simply amazing. I cannot stress how much this game transports the player to this mysterious world, and the music helps to set the stage, over and over.
As for the combat, Utawarerumono: Mask of Deception uses the tactics, or strategy role-playing game (SRPG) method for battles. Characters are placed on a grid and move and attack in turn based combat. Each battle command has an additional button press mini-game for better attack and defense effects, and new skills can be equipped to the characters, some that can link with others for devastating attack chains. It's weird thinking that this portion of the game is an afterthought, but after so many hours of reading, battles are both a welcome respite, and somewhat of a nuisance that distracts from the events happening in the narrative. And none of this is a detractor to the greater package as a whole.
Combat levels can be replayed over and over in free play mode to grind for levels, but Utawarerumono: Mask of Deception does a great job of presenting players with combat situations that can be handled without spending hours upon hours grinding outside of the story context.
Utawarerumono: Mask of Deception also includes an ever expanding glossary that is filled when Haku meets new characters, sees new flora or fauna, eats new food or consumes new drinks, or discovers new towns and cities. Players can then go back and read all about the new discoveries in the glossary at any time, which helps pad out the game as a whole.
Utawarerumono: Mask of Deception is a different kind of game, and as mentioned, is a nice break from the other games that I've been playing recently. It is a new take on the RTS/Tactics genre, one that puts complex storytelling ahead of anything else. I can fully understand that this might not be a game for everyone, but fans of JRPGs, or just Japanese culture (anime, manga, etc.) in general, will find plenty to love here. The combat is fun and well-designed, and the art direction, voice acting, and music are all some of the best in any game this year. I love these characters, and I feel that I truly know them. This is a game that I keep coming back to, as the draw of the story is strong. It should also be explained that this is the first of two games, the other, Utawarerumono: Mask of Truth, will be released this fall, wrapping up this wonderful, beautiful, and epic story. I cannot wait.
Utawarerumono: Mask of Deception is available now for the PS4 and PS Vita. This is a cross-save title, so players can take the story on the go. This review was based off a PS4 game code provided by ATLUS, U.S.A.
TheHDRoom may be paid a small commission for any services or products ordered through select links on this page.