'Snake Pass' Review: Snake Simulator Fun
Noodle the vegetarian snake is on a mission to save his home, Harmony Hills. With his hummingbird pal, Doodle, they set off to find out what mysterious force is disrupting their adorable world. But don't let the colorful and cute design fool you. Snake Pass is unlike anything players have ever seen. Developer Sumo Digital has essentially created a snake simulator and then threw it in a platformer with puzzle game elements. Players must learn the interesting play control then use their skills and brainpower to collect various objects hidden over 15 different stages.
Snake Pass takes some getting used to. Even having played games for almost 40 years now, Snake Pass just felt awkward at first, with no jumping, and movement that, at first, feels more like a racing game, with a throttle button that tells your new found snake friend to go forward. But that's not enough, of course, snakes use a serpentine motion to gain momentum. You, dear player, must do the same. Get those left thumb muscles primed, because you gotta move back and forth, just like a snake!
Once players shed (I'll try to limit the snake jokes, promisss) past learned game mechanics and get the hang of it, Snake Pass will slither into your heart. Each stage presents new challenges; at the start they teach the intricacies of the controls. As Noodle moves forward gaining momentum with your back and forth movements, all while holding the throttle, players must use another button to direct him upwards, another to tell him to squeeze and grip onto objects he is climbing, and still direct the cute bugger with sometimes tricky movements along treacherous terrain. My poor Noodle fell to his death on more than one occasion. With another button press, Doodle can also assist slightly by grabbing your tail and giving you that extra lift when needed, but unfortunately cannot save you from falling to your death. Noodle needs to make bigger flying friends.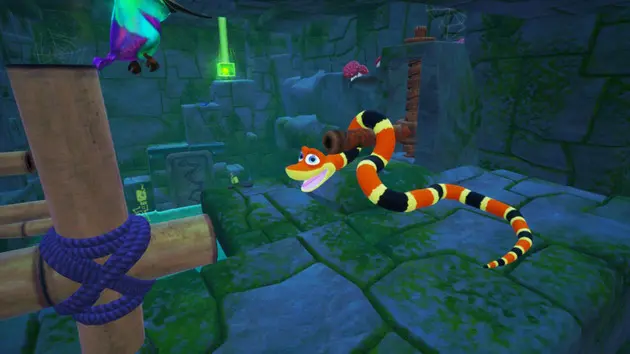 Once I learned the controls, the next step was to think like a snake. How do I get up to that next ledge? There are many paths leading to same place usually, players just have to figure out the best route. This is the puzzle element of Snake Pass. Just slithering along on the ground or in the water is a blast when you get in the groove, it's those climbs and ledges that will get you if you aren't slow, deliberate, and mindful to squeeze in at the right time. Snake Pass loves to hide coins and other collectibles so the usual "easter egg hunt" of most platformers is there. Once players get the confidence to go after harder rewards, levels can be replayed and mastered.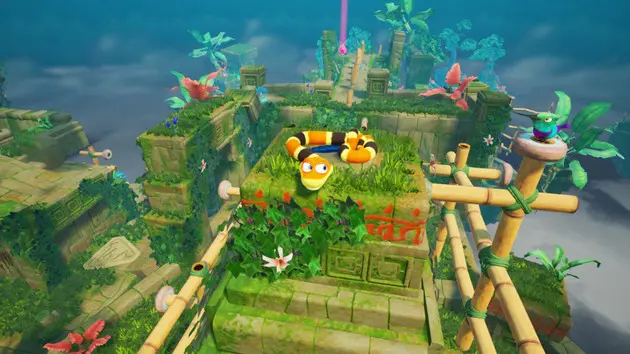 While nothing groundbreaking, Snake Pass' graphics are whimsical and fitting, they seem inspired by developer Rare's classic games like Banjo Kazooie. So it makes sense that the music for Snake Pass was created by ex-Rare composer David Wise. Adding to the fun and cute element, the catchy music is perfect for the world of Harmony Hill.
Unfortunately Snake Pass does sufferer some problems. The camera angles, at times, are all over the place. Being a snake, Noodle can crawl into some tight spaces and the camera has a hard time figuring out where it should be. This is also a huge problem when players are in a momentum grove and start climbing, only to have the camera pull to the side and cause that next rung to be missed. The controls are also very touchy, and while some players may enjoy that challenge, mastering snake movement in the "snake simulator," when wind comes into play later in the game, it can be especially unnerving.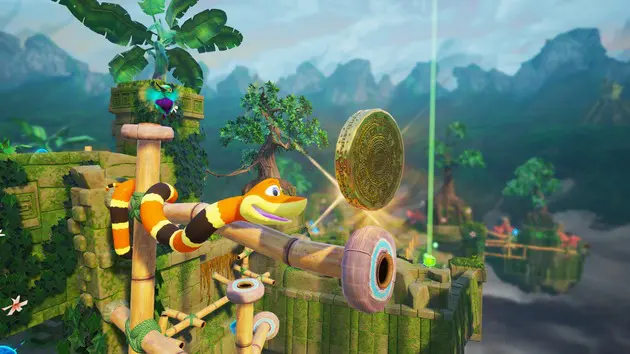 At times Snake Pass is fun and relaxing, at other times, it's a frustrating nightmare. Overall, what Sumo Digital has managed to create is a unique and fun game that I can honestly say compares to nothing else in gameplay and controls, at least. Snake Pass ran beautifully on the Nintendo Switch and with that version, players can get their slithering on the go even. Although Snake Pass does play better in my opinion with the Pro controller because of the difficult controls. Kids and adults alike should enjoy Snake Pass and at $19.99 MSRP in the Nintendo eShop, it's a great deal. Hopefully we will see a second installment with more fine tuning and a longer adventure. I know I want to see what Noodle and Doodle get into next!
Snake Pass is now available on the Nintendo Switch, PS4, Xbox One and PC. This review is based on a digital copy for Nintendo Switch provided for that purpose.
TheHDRoom may be paid a small commission for any services or products ordered through select links on this page.