SEGA 3D Classics Collection Review: Finally, A Reason To Use The 3D Mode
SEGA has a definite place in the annuls of video game history. The company has had its hands in some of the greatest game franchises ever, and when SEGA decides to release complications, its easy to remember why they are as revered as they are. This is the company that brought us the Master System, the Genesis, and the venerable Dreamcast, as well as Sonic The Hedgehog and Altered Beast, in addition to many, many other great titles that eventually became iconic franchises.
Now, SEGA has taken nine (or so) of their 8-bit and 16-bit classic games, and using the original source code, has completely remastered them for the Nintendo 3DS game system. SEGA 3D Classics Collection brings Sonic and the heroes (yes, you can play local co-op!) of Altered Beast, as well as games that have never been legally released outside of Japan, to the 3DS. The end results are a fun and nostalgic trip through the 1980s and 90s arcade and home console classics.
The collection features a nice variety of side-scrollers and shooters, and puzzle games and even flying games like Galaxy Force II and Thunder Blade, a top down/third-person helicopter flying game that ruled arcades in the 1980s. The games in the SEGA 3D Classics Collection have been remastered from the actual original code and arcade boards, giving them a level of authenticity that is usually discarded when anthology games like this are released.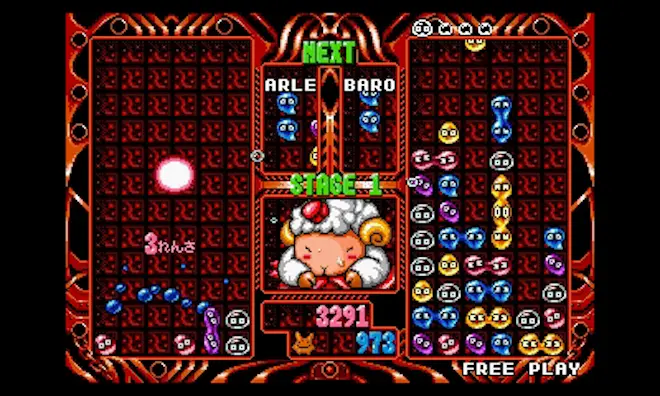 The SEGA 3D Classics Collection is full of additional modes for each game to tailor the experience per the gamer's tastes. Different backdrops can be selected, as well as screen sizes and control schemes, giving the player many options to choose from in presentation. The best, and biggest draw here is the wonderful use of the Nintendo 3DS's stereoscopic 3D feature. The games in this collection absolutely pop off the screen — as they should —  and makes for a truly unique gaming experience, even if you've played these games before.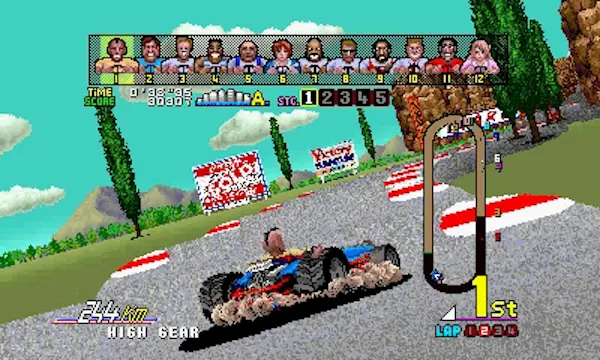 The madcap racing elements of Power Drift gives circuit racing a 3D facelift. The chopper in Thunder Blade seemingly hovers slightly above the 3DS screen while playing in 3D. The range of depth, even in a puzzle game like Puyo Puyo 2, in every game is gorgeous. This is what Nintendo had in mind when they rolled out the Nintendo 3DS system years ago. It's not a gimmick; it actually makes the game visually better and more fun to play.
The nine titles (there is a secret 10th game in the collection) in SEGA 3D Classics Collection offer something for every gamer.
Altered Beast
Fantasy Zone II W
Fantasy Zone II
Galaxy Force II
Maze Walker
Power Drift
Puyo Puyo 2
Sonic The Hedgehog
Thunder Blade
Fantasy Zone II and Maze Walker have two different versions, depending on which version you want to play (SEGA Master System or 16-bit, and SegaScope 3D, in regards to Maze Runner).
SEGA 3D Classics Collection is a nice little stroll down memory lane for gamers who may have played these games 30 years ago, or for new gamers who can finally play them as they were created, not through an emulator or a bare-bones collection. The variety of titles and genres gives players something for everyone, and with the Nintendo 3DS's stereoscopic 3D, gamers can see and play these games in a brand new way.
Whether you've played them before, or if this is your first time, this collection is a must-have for gamers new and old.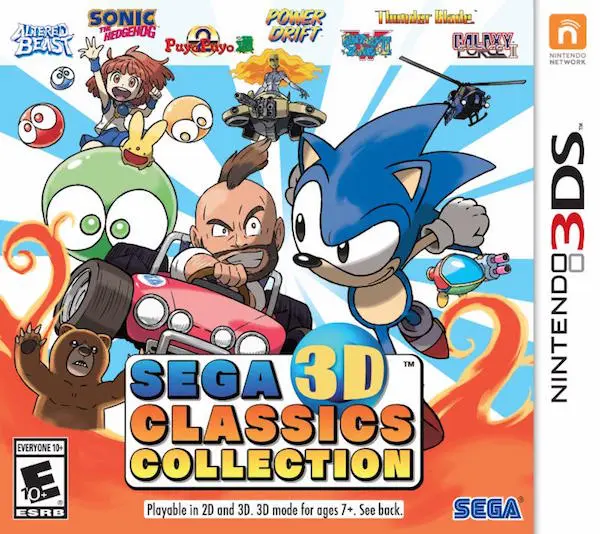 SEGA 3D Classics Collection is available exclusively for the Nintendo 3DS (and 2DS) system beginning on April 26. The game is available in both retail and digital versions. The retail version comes with a special sticker set that highlights the history of the games in the collection. This review is based off a code provided by SEGA.
TheHDRoom may be paid a small commission for any services or products ordered through select links on this page.