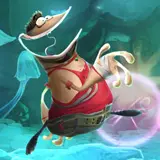 Snoop Dogg would like everyone to know that Ubisoft's Rayman Legends is platforming its way to Xbox One and PlayStation 4 on February 25. Watch Snoop deliver the announcement below.
The Xbox One version of Rayman Legends will include 10 exclusive challenges that will unlock new time-limited Achievements. It does not appear as if Ubisoft bothered to build in new Kinect support. Xbox One owners will get exclusive costumes consisting of Splinter Ray, Ray Vaas and Globox Vaas.
Sony's PS4 version will utilize the DualShock 4's touchpad to perform tasks such as scratching off Lucky Tickets. The PS4 version will also support remote play via PS Vita and video/screenshot sharing. PS4 exclusive costumes include Assassin Ray.
Rayman Legends was already one of the most visually stunning games to appear on Xbox 360, PlayStation 3 and Wii U this past fall. It's hard to imagine the game will look that much better on PS4 and Xbox One, but per Ubisoft, the graphics have been upgraded and load times reduced. It will make a fantastic next-gen pickup for anyone who missed the earlier release and can appreciate a challenging platforming game, though I can't help but think that Ubisoft is missing a huge opportunity by not including playable Snoop Dogg as seen in the trailer below in the game.