Raw Data is a new VR based game from developer Survios. While at E3 last week I was approached to demo it. I explained my usual experience of motion sickness when trying to play VR games but was informed that Raw Data was intentionally designed for people like me. Using a teleportation system for movement, players do not run or walk and movement is limited to just rotating your head and body, ducking, and moving your arms to aim, reload, and even punch or use melee weapons.
I strapped on the HTC Vive VR equipment, was handed the two controllers, and then found myself in a futuristic battle zone, full of killer androids and flying drones. Once I got the hang of the teleportation system, I was popping around the area with my partner and blasting everything with my two handguns. I had a HUD that would allow me to pick from two special abilities: a bullet storm, increasing my shot output, or a time slow ability, perfect for getting well placed shots off.
While I was only able to play Raw Data for about 15 minutes, what I did see was enjoyable and did not make me feel the usual "stomach in my throat" effect previous VR titles gave me. Response was very tight and the action was non stop, as waves of enemies tried to destroy a batch of energy cells I was protecting. Enemies varied and some were rather tough to kill, so I had to bust out the special abilities a few times to save me and my partners asses. A very fun VR title, Raw Data is sure to be a hit among fans of the genre. If you have invested in an HTC Vive, Oculus Touch, or PS VR, I think it will be a must-buy. It certainly left an impression on me. I just wish more developers would come up with innovative ways to keep folks like me from losing their lunch after playing.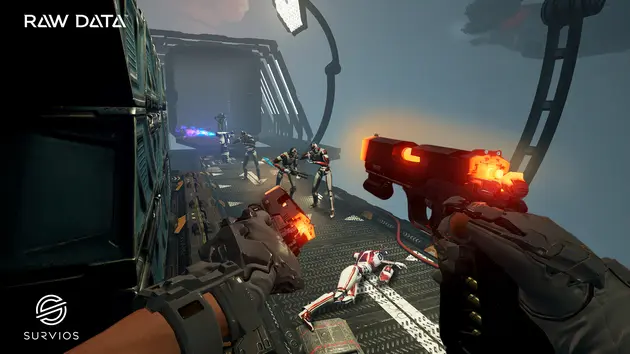 Raw Data is scheduled for release in September of 2017 and is currently available on Steam and Oculus Home early access. No information is available yet on the PS VR release date. Below, readers will find system requirements and other information provided to us at E3. Thanks to the wonderful folks working the booth for Raw Data for giving me such a unique and memorable experience this year at E3.
Per the official Raw Data press release:
SYNOPSIS Neo-Shijuku, 2271. Within the global headquarters of Eden Corp, a mega-corporate brand whose products and services dominate the world economy, Chairman Shiro has unveiled his latest, seemingly benevolent offering: "Promotion." Dedicated to preserving mankind by exposing Eden Corp's true intentions, elite hacker resistance SyndiK8 has uncovered hints of Promotion's far more sinister purpose, one that could possibly mean the end of the concept of humanity. SyndiK8 has enlisted its most hardened operatives to infiltrate Eden Tower, download as much incriminating raw data as possible, get out alive—and still human.
KEY FEATURES
Active VR Gameplay: Your body is the controller. Dual-wield pistols, slash a katana, pump a shotgun, do gun tricks, and even use your fists in close-quarters combat—all while ducking, dodging, deflecting, and taking down enemies in every way possible.

Cross-Platform Co-op: PC gamers can team up with players on both HTC Vive and Oculus Touch in a shared co-op VR space that encourages social communication via body language, facial expression, blended animation, and simulated eye contact.

Choose Your Hero: What's your fighting style? Choose from three badass heroes—Bishop the Gun Cleric, Saija the Cyber Ninja, Boss the Street Merc, and Elder the Rogue Hunter—each with his or her own weaponry, special abilities, and devastating ultimates.

Badass Abilities: Defy gravity, slow time, charge up shots, create ghostly decoys, boomerang your blades, crush enemies, unleash deadly barrages, and and do much more with powerful special abilities and ultimates.

Weapons and Defenses: Battle with a futuristic arsenal of firepower, from handguns and bows to fists and swords, as well as deployable turrets and holographic shields for extra insurance.

Challenging Missions: Gain access to new levels of Eden Tower throughout the campaign, each with its own unique layout, hazards, strategies, narrative reveals, and objectives—and each deadlier than the last.

Cutthroat PvP: Eden vs. SyndiK8: who will triumph? Prepare for a Hostile Takeover on king-of-the-hill PvP maps featuring up to 10 players wielding specially optimized hero abilities.

Adaptable Enemies: Battle swaths of killer robots, including ninja stealthers, laser gunners, towering megabots, heavy rocket mechs, jumping crawlers, flying drones, and more.
SYSTEM REQUIREMENTS
Minimum
OS: Windows 10 • Processor: Intel i5-4590 • Memory: 8GB RAM • Graphics: NVIDIA GTX 970 • DirectX: Version 9.0 • Network: Broadband Internet connection • Storage: 10GB available space
Recommended
OS: Windows 10 • Processor: Intel i7-4770 • Memory: 16GB RAM • Graphics: NVIDIA GTX 980 • DirectX: Version 12 • Network: Broadband Internet connection • Storage: 10GB available space