Sony's big PlayStation 4 exclusive The Order 1886 isn't schedule to drop into stores on February 20, but that doesn't mean longtime PSP developer Ready at Dawn isn't well ahead of the production curve and eager to get their big exclusive into your hands.
Ready at Dawn took to Twitter this morning and announced that The Order 1886 for PS4 has officially gone gold. This means that production on the game, which began four years ago in January, 2011, has officially wrapped and the final code is being sent to manufacturing well ahead of its on-shelf debut.
To accompany the big news on Martin Luther King Jr. Day, Sony has announced a pair of pre-order incentives to drum up additional interest in the controversial game that some believe will feature too many Quicktime Events (QTE) and not enough user-controller gun play. We're not going to comment on those claims based on select publicly shared gameplay bits until the full retail version of the game is in our hands.
#TheOrder1886 is officially GOLD! We can't wait for all of you to play the game on February 20th! pic.twitter.com/RGA49jZPht

— The Order: 1886 (@TheOrder1886) January 17, 2015
Pre-ordering The Order 1886 will net you The Knight's Arsenal DLC that awards the protagonist Galahad a pair of new costumes and two new weapons: the Arsonist Rifle and Arc Rifle Prototype.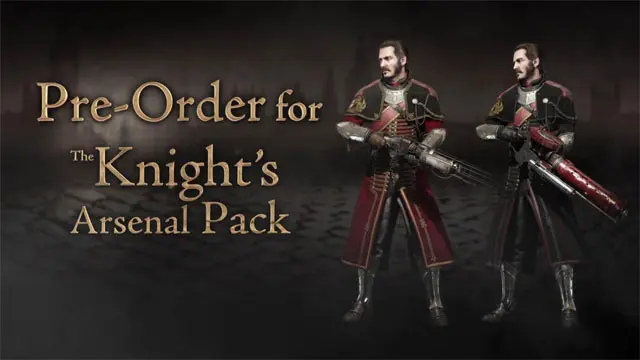 Go a step further and pre-order at GameStop to additionally receive the Knight's Endurance Pack with a Desert Khaki uniform and Endless Blackwater tonic i.e. continual health regeneration. That's essentially a free pass to blow through the game with the ability to continually heal yourself whenever hurt.