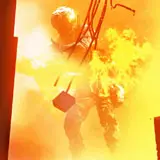 The July 4th holiday is almost upon us and Electronic Arts thought it would be a good idea to launch the occasion with a pair of new screenshots snapped from Battlefield 4.
E3 brought us extensive looks at both maps/missions covered in these new screenshots. The first comes from the multiplayer map "Siege of Shanghai" and features a massive skyscraper toppling over in the background, imagery that has become the calling card of big first-person shooters heading into the next generation of gaming consoles.
The second screenshot switches gears and is taken from the single-player mission "Angry at Sea." This one seems designed to showcase the details soldier models that will be on display in the game.
Battlefield 4 will be released October 29 on Xbox 360, PlayStation 3 and the PC. Xbox One and PS4 versions are also coming with expected ship dates either on October 29 or sometime in November. It has already been confirmed that Battlefield 4 will be available at the launch of Xbox One and PS4. Pre-order Battlefield 4 here.
Amazon is already offering a PS4 bundle launch day guarantee pre-order with Battlefield 4, one of the last remaining ways to guarantee a PS4 on the day it launches.