LEGO Dimensions Adventure Time Level Pack Review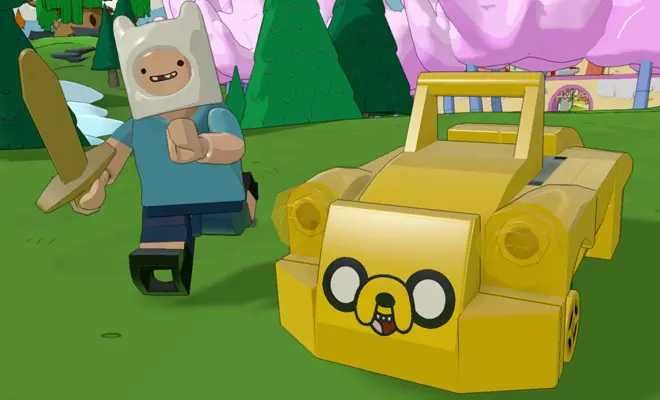 If Mission: Impossible is the LEGO Dimensions Wave 6 representative of a straightforward, grounded in realism experience than the Adventure Time Level Pack sits far on the spectrum's opposite end. It's bright, colorful, immature, gleefully absurd and designed to look hand-drawn, much in the same way the Cartoon Network series it's based on does. There's a lot to love in the Land of Ooo and little to dislike.
The LEGO Dimensions Adventure Time Level Pack consists of a Finn the Human Minifigure and two builds: the Jakemobile and the Ancient War Elephant. Finn is a unique addition to the LEGO Dimensions line and not because he's the only human in Adventure time. His backpack, represented in physical form on the figure, offers quick access to a variety of themed-swords for taking on different tasks. A quick look at the Cartoon Network show proves that Finn the Human's LEGO form is spot-on.
Ancient War Elephant and the Jakemobile are a bit of a mixed bag. The latter is yet another car in the collection and this one only has two front wheels. The printed hood is a nice touch but otherwise the bright yellow ride is fairly forgettable. More purpose comes from the cool Ancient War Elephant that not only flies using jets on its feet but also shoots lasers from its trunk to melt gold obstacles.
Gameplay within the Level Pack tasks Finn and his pals with retrieving a book from an evil spirit. Simple enough, though once the spirit is easily defeated less than an hour in you might be wondering where the value is.
Fear not, human! The spirit was the first of two and a second, awakened and freed in a humorous cut-scene, triggers the latter part of the Level Pack. Though these two halves don't make a traditional whole, there is enough gameplay variety and elements spread across both to feel like a complete Level Pack.
Complimenting the Adventure Time Level Pack is a Team Pack including Jake the Dog and Lumpy Space Princess Minifigures, as well as BMO and Lumpy Car. Yes, there's yet another car to drive around in, but BMO is more like a horse that not unlocks special puzzles but can be ridden in style.
Jake, Finn's best bud, compliments his pal's sword arsenal with the ability to morph into a wide variety of shapes and weapons. Lumpy Space Princess isn't as special but does have a nifty ranged attack that comes in handy on the over-sized first Ogre boss.
The Adventure Time Level Pack is such a stark contrast to the Mission: Impossible Level Pack that between the two of them all mature and immature bases are covered in Wave 6. With the extra Team Pack and a future Fun Pack the world of Adventure Time will live on in digital and physical LEGO form after the show ends its Cartoon Network run next year.
The LEGO Dimensions Adventure Time Level Pack was played on PlayStation 4 and provided by Warner Bros. Interactive Entertainment for the purposes of this review.
TheHDRoom may be paid a small commission for any services or products ordered through select links on this page.