Hatsune Miku: Project DIVA X Review
Rhythm games that involve cute, bubbly, anime-inspired characters are a major deal in Japan. The J-pop industry is one of the best, most popular in the Asian market, and these games capitalize on that. While western audiences have games like Guitar Hero and Rock Band, which play up to the all-American dream of being a rock star, the Japanese pop rhythm games give the player the fantasy of singing and dancing along to some incredibly infectious songs. The Hatsune Miku: Project DIVA series is a perfect example. With 10 installments, the series, created by Crypton Future and SEGA, has delighted gamers on multiple game systems since 2009, and the newest version, Hatsune Miku: Project DIVA X (the X is the Roman numeral for 10) continues that trend by highlighting past songs and sets, and adding so much more content.
Hatsune Miku: Project DIVA X is made up of various modes, including the Live Quest (think story mode) and free play. Live Quest tasks the player with teaming up with a small army of J-pop superstars to restore lost voltage to five various cloud — each cloud representing a style of music, like Cool, Quirky, Cute, etc. Each cloud has four songs that must be performed with a set amount of voltage (energy earned by hitting the notes correctly) to advance. Each cloud also ends with a mega medley of four songs, and hitting that last voltage requirement allows the player to choose the next cloud to unlock.
Along the way, the player and the in-game characters will unlock various costumes, styles, and accessories, and even furniture, toys, and trinkets that can be used as gifts, decorations to the various locations (which are also unlocked by playing), and the like. The various costumes also give the player bonuses if the aura of the outfit matches the aura of the cloud. As the story progresses, players can even create full-fledged concerts with up to three songs, and the player also controls who performs and even the venue used. There is a ton of content packed into the Live Quest game mode, and so much stuff to unlock. Costumes, modules, accessories, and even songs, all to personalize the gameplay experience.
Hatsune Miku: Project DIVA X has over 30 songs to play, and they are unlocked as you restore voltage to the five clouds. Completing the "story" mode doesn't end the game, it really just gives the player all of the tools needed to really get into the meat of Hatsune Miku: Project DIVA X. Free Play mode gives the player unprecedented authority to create their own performance masterpieces, even allowing the creator to assign camera angles. Again, there is so much to do and see here. This is not just a rhythm game to be conquered and then forgotten. Like the infectious J-pop songs you are tasked to perform, the game gets into your brain and playing each song over and over to unlock everything becomes an obsession.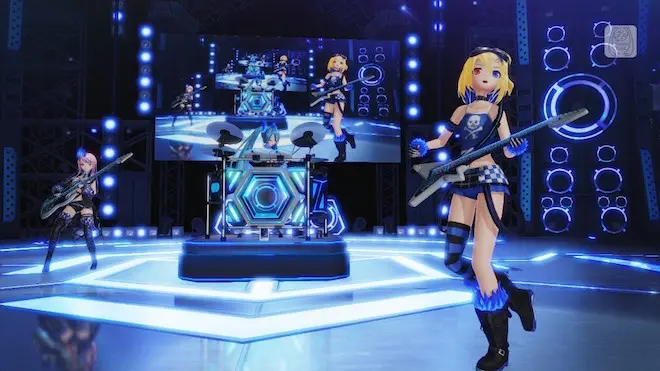 Hatsune Miku: Project DIVA X is not all cutesy J-pop fun, though. It's hard. The note/button icons on the screen are sometimes hard to make out against the gorgeous, eye-popping Hi-Def, 1080p/60fps graphics of the characters singing and dancing on stage. Missing notes, or rating them as "bad" happens often, due purely to the epileptic orgasm of what is happening on-screen. Also, there are two difficulties to start out with, easy and normal, but if you hate your life, others open up. Easy mode is incredibly simple, with one note every seven beats or so. But the next step up to normal unleashes a form of eye-ball drying hell that is reserved for rubberneckers at spectacular car crashes on busy major metropolitan roadways. Things get so chaotic that one miss can ruin an entire song, as it's difficult to get back into rhythm. At least it was for me. And that was just normal. Higher difficulties are reserved for the very skilled, and slightly insane players, who enjoy making their eyes bleed to cute J-Pop songs.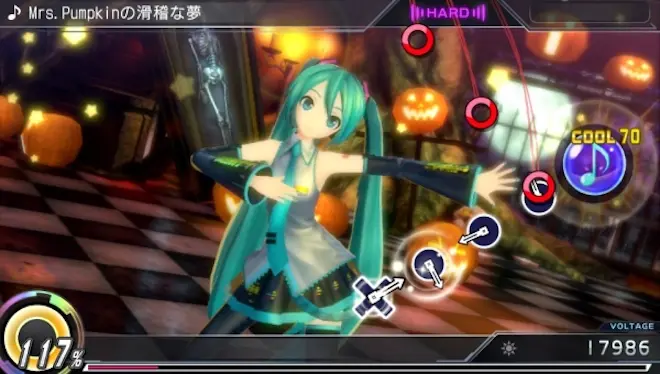 Hatsune Miku: Project DIVA X is a content-filled, visually appealing game that gets into your brain and doesn't let go. There is so much to unlock and so many songs to master, that even the difficulty of the "normal" level won't turn you away, and if fact, will bring you back early and often for more fun/punishment. This is a rhythm game that lives up to the genre and the beat will all but force you to play "one more song" until there are no more songs to unlock and there is also DLC support for post-game goodness. And then, the real fun begins.
Hatsune Miku: Project DIVA X is available for thePlayStation 4 and PS Vita, with cross-save abilities across both systems. This review is based off a PS4 review code provided by SEGA.
TheHDRoom may be paid a small commission for any services or products ordered through select links on this page.