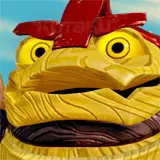 The 2014 E3 exclusive Skylander figure has been revealed and it's not a figure at all. Rather, in the perceptive words of the great Admiral Ackbar, "It's a trap!"
From Skylanders Giants forward, Activision has awarded media who participated in an E3 demo — or in the case of last year, played a "swapping" game — a free repainted E3 exclusive Skylander to take home. Those Skylanders looked the exact same in-game as their retail counterparts. The only thing unique about them has been an E3 exclusive badge on the packaging and the paint redeco.
This year, Activision is stirring the pot to preface the release of Skylanders Trap Team. As small plastic physical world traps that resemble totems play integral role in the game, the E3 exclusive giveaway at the Activision booth is a green Life Torch Trap (pictured below) with a playable villain already loaded on it.
The villain is Riot Shield Shredder (screenshot below) and like the E3 exclusive Skylanders before him, he's a redeco of the regular Shield Shredder enemy found throughout the game. However, unlike those E3 exclusives of the past, he looks like a different character in the game sporting a cool suit of armor and eye-popping paint scheme.
Simply put: if you don't have the E3 Life Torch Trap, you won't get to play as Riot Shield Shredder.
From now until October 7 when Skylanders Trap Team arrives in stores, anyone who gets their hands on the E3 exclusive Life Torch Trap at E3 or via Ebay won't be able to do anything with it. Maybe whatever packaging Activision has put the Trap in will solve that mystery for us. All we know right now is that the Traps won't be sold in blind bags.
Other E3-related Skylanders Trap Team news items the past few days include the reveals of Gearshift and Krypt King.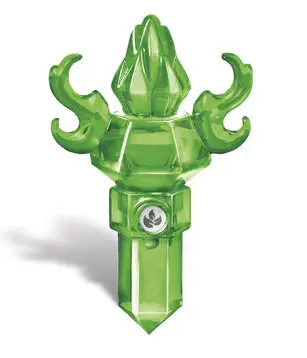 Source: Kotaku