Awesomenauts Assemble! Review: All Your Base Are Belong To Us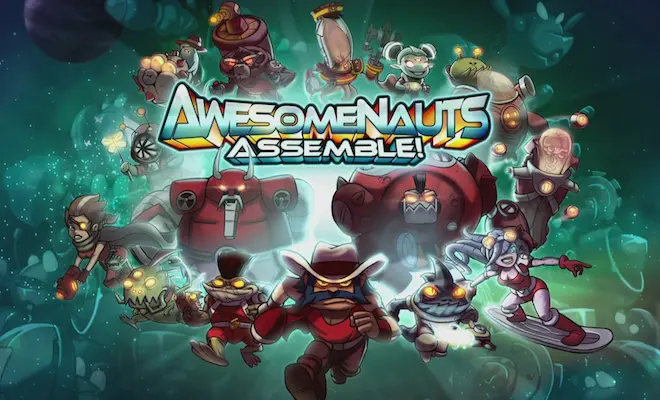 Awesomenauts has been around for a few years now, debuting on the PS3 and Xbox 360 in 2012, but the expansion, Awesomenauts Assemble! which collects all of the upgrades, changes and additions, is still relatively new. The full-featured version hit the PlayStation 4 back in March of 2014, and now, it has finally come to Xbox One.
Awesomenauts Assemble! is a 3-on-3, team-based, arena-style, side-scroller battle game where players fight each other to destroy opposing bases. There are over 25 different characters to choose from, each with strengths and weaknesses. The art direction and back stories make each character work playing at least once to find the combination that works for the individual player. The game is a completely different experience based on the character chosen. A sword-carrying character focuses on melee, while a shooter has a ranged attack, which is very welcome on these small, platform-heavy, 2D maps.
Each match drops players onto a map, with two bases, a handful of turrets, and bots that serve as attackers and defenders. The action is fast, though winning a match can take 20 minutes or more if there are evenly matched teams. Players can also buy upgrades from their bases, giving them better attacks, weapons, buffs, and defenses.
Awesomenauts Assemble! allows players to unlock new characters by earning XP during matches. It will take some match grinding to unlock them all, but the skills learned, and the sheer amount of fun that is had from battling makes that grinding worth it.
The art direction of the characters — along with character-specific voice acting — helps to really sell the idea of a backstory of the characters being mercenaries working for two warring sides. In fact, this is done much like Blizzard's Overwatch, but for a much lesser price, and personally, a more fun time.
Awesomenauts Assemble! does a great job with dropping players (literally) into an all-out skirmish. The only issue I had with matches was that I was stuck with my character, and if it wasn't a good fit for my play style, or the enemy I was battling, I was stuck dying over and over. Choosing a character to counter the enemy would be helpful, but it's not present here.
Awesomenauts Assemble! is a fun, fast paced battler that makes for a nice distraction when players are looking to get away from the big AAA titles. Also, it has the greatest theme song ever written for a video game. Now that Awesomenauts Assemble! has hit the Xbox One, there is no excuse not to give the game a shot and to battle friends and strangers to take bases and win the match.
Awesomenauts Assemble! is available on the Xbox One and the Playstation 4. This review is based off a review code for the Xbox One version, provided by the publisher.
TheHDRoom may be paid a small commission for any services or products ordered through select links on this page.