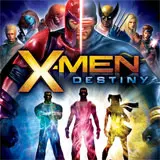 X-Men: Destiny, the latest action/rpg entry in the ongoing mutant game series and first to feature all-new exclusive mutants, is now available in stores for Xbox 360, PS3 and Wii. Thanks to publisher Activision, we are going to award five mutants… err… readers with the Xbox 360 version of the game.
If you want to take a chance at winning one of these X-Men: Destiny Xbox 360 games looking for a new home, all you have to do is fill you and submit the entry form below. This is a daily contest so you can greatly increase the odds of winning each day you stop back to enter again for as many days as the contest is open. The more entries, the better the odds.
Fighting alongside and against some of Marvel's greatest X-Men characters, including Magneto, Cyclops, Wolverine and Gambit, gamers will evolve their mutant skills through X-Men Destiny's upgrade system, allowing them to mix and match X-Genes and abilities from various X-Men and Brotherhood characters such as Iceman's freeze powers and Emma Frost's diamond skin.

X-Men Destiny's three new mutants – Grant Alexander, Aimi Yoshida and Adrian Luca – are brought to life by the voices of some of young Hollywood's most popular talent: Heroes icon Milo Ventimiglia, Sucker Punch and The Hangover Part II actress Jamie Chung, and Friday Night Lights star Scott Porter.