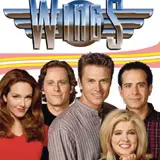 The TV sitcom Wings starring Crystal Bernard, Tim Daly, David Schramm, Rebecca Schull, Tony Shalhoub and Steven Weber came to a conclusion after its seventh season. We've been given five sets of this final season to give away to five of you.
Send in the completed entry form below for a chance to be picked as a Wings: The Final Season on DVD set winner. Odds of winning can be increased by returning any or every day the contest is running to enter again. Good luck!
About Wings: The Hackett brothers, laid-back Brian and straight-laced Joe, and Joe's wife, Helen, attempt to run a one-plane airline on Nantucket surrounded by their various wacky friends and employees.