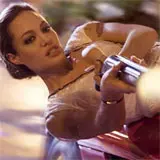 On December 2, Universal Studios Home Entertainment will release their most anticipated DVD and Blu-ray Disc for the holiday season: Wanted.
We just so happen to have three sets of Wanted's two-disc collector's edition on DVD courtesy of Universal that will arrive in the mailboxes of three of you. This two-disc edition includes over an hour of extra features that explore the making of the film.
If you want to score one of these Wanted DVDs, fill out and submit the entry form below. We encourage returning each day to enter again as long as the contest is active to increase your odds of winning. Good luck!
About Wanted: Wesley's (James McAvoy) life is over – his pathetic, old one, anyway. Fortunately, it is all because of a girl. Enter sizzling-hot Fox (Angelina Jolie), who crashes into his life and introduces him to the Fraternity, a secret society of assassins, lead by the mysterious Sloan (Morgan Freeman). Seems Wes's long-lost father was killed while working for the Fraternity and Wes has been selected to target the rogue member who murdered him. But before he can complete his assignment, Wes must first uncover the dark secrets behind the Fraternity in order to determine his own destiny.