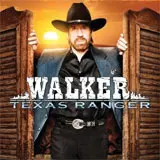 Ready to add to your growing collection of Walker Texas Ranger DVD sets? Alright then, here's your chance.
We have five sets of Walker Texas Ranger Season 6 on DVD ready to hand out in this contest. For a chance to win one, fill out and send in the entry form below. Return daily and enter again as long as the contest is running to up your odds of winning with each entry. Good luck!
About the show: Texas Ranger Cordell Walker, one of the last old-fashioned heroes in the West, is a protective friend but a relentless foe who will stop at nothing to bring a criminal to justice.