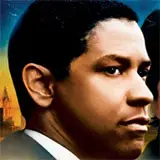 Now available on Blu-ray for the first time ever is The Siege starring Denzel Washington, Bruce Willis and Annette Bening. We have seized five copies of the new release up for grabs in this daily entry contest.
For a chance to win one, fill out and send in the form below. Return any day the contest is running and enter again. Good luck!
Eerily prescient of the 9/11 attacks and their aftermath, The Siege – filmed more than three years before the attacks – tells a fictional story of terrorists who set off a series of bombs in and around New York City. An FBI special agent (Denzel Washington) and a U.S. Army general (Bruce Willis) team up to find out who responsible… and wage an all-out war against the ruthless terrorists.