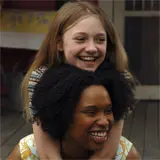 Dakota Fanning has been appearing (or voicing) in numerous Hollywood projects of late. Her latest to hit Blu-ray, the heartfelt drama The Secret Life of Bees co-starring alongside Queen Latifah, Jennifer Hudson and Alicia Keys, is now up for grabs in this daily entry contest.
To enter for a chance to win one of five available copies, fill out and send in the entry form below once per day as long as the contest is running. Then cross your fingers and hope your name is drawn. Good luck!
About the film: To escape her cruel, angry father – and discover the truth about her late mother's past – 14-year old Lily Owens flees with her caregiver and friend Rosaleen to a South Carolina town where she's taken in by the bee-keeping Boatwright sisters. Surrounded by the unexpected love, grace and spirituality she encounters there, Lily forms a bond with each of these uniquely gifted women and discovers that sometimes you must leave home in order to find it.