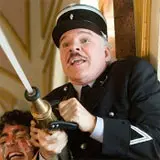 Steve Martin's second go around as bumbling stumbling Inspector Jacques Clouseau in The Pink Panther 2 is now available on DVD and Blu-ray Disc.
I have three copies of The Pink Panther 2 on DVD requiring no sleuthing to win. All you have to do is enter via the form below and cross your fingers for being selected as a winner. To increase the odds, return any or every day and enter again.
Steve Martin returns to the scene of the fun as the brilliant, bumbling Inspector Jacques Clouseau in this side-splitting slapstick comedy for the whole family! When legendary treasures from around the world are stolen, including the priceless Pink Panther diamond, Clouseau is assigned to a dream team of international detectives who are under pressure to bring the master thief to justice before he strikes again. Co-starring Jean Reno, Alfred Molina, Andy Garcia, Lily Tomlin and John Cleese, The Pink Panther 2 will steal your heart…and keep you laughing!