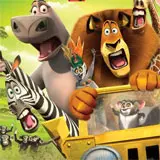 You ready to move it? New on DVD and Blu-ray Disc today is the theatrical hit Madagascar 2: Escape 2 Africa.
As with Kung Fu Panda, Dreamworks has packaged an additional film with the DVD set featuring the feature films comedic sidekicks — in this case, the penguins.
We have three sets of the Madagascar: Escape 2 Africa Move It! Move It! Double-DVD Set with the feature film and Penguin Adventure to give away in this contest. For a chance to win, fill out and send in the entry form below. You can return every day the contest is running and enter again for increase odds of winning. Good luck!