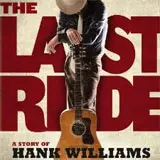 On June 4, Fox Home Entertainment is bringing The Last Ride to Blu-ray and DVD. The film tells the story of Hank Williams, considered to be country music's original bad boy, and includes new versions of some of his most famous songs.
We have teamed up with Fox to offer two readers the Blu-ray edition of The Last Ride in this giveaway. For a chance to win one of them, please fill out and submit the short entry form below. The odds of winning can be increased each and every day you stop back to enter again for as many days as the contest is open. You must be a resident of the U.S. or Canada to participate.
Based on the controversial life story of singer-songwriter, Hank Williams, THE LAST RIDE tells the powerful tale of country music's original bad boy. The man, the myth and the music come together when Williams travels from Alabama to a series of New Years shows in West Virginia and Ohio. This remarkable journey leads straight into the heart and soul of the legendary performer… as he takes one last shot at redemption. Featuring all-new versions of Hank Williams' greatest songs, this emotional tale of hope and truth is one you'll never forget.