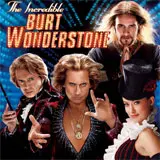 Now available on Blu-ray and DVD from Warner Home Video is The Incredible Burt Wonderstone starring Steve Carell, Steve Buscemi, Olivia Wilde, Alan Arkin, and the late James Gandolfini. It's a battle magicians as the old guard takes on a newer, hipper trickster on the Vegas strip.
Thanks to Warner we have three copies of the Blu-ray and DVD combo pack of The Incredible Burt Wonderstone up for grabs in this giveaway. To enter for a chance to win one of them, please fill out and submit the short entry form below. The odds of winning can be increased each and every day you return to enter again. You must be a resident of the U.S. or Canada to enter.
After breaking up with his longtime stage partner after a major injury during a failed hotbox trick, a famous but jaded Vegas magician fights for relevance when a new, "hip" street magician appears on the scene. Ultimately, he must turn to his old partner and fight for him to return to reunite the duo. Burt Wonderstone pairs comedy superstars Steve Carell and Jim Carrey together for the first time since Bruce Almighty.