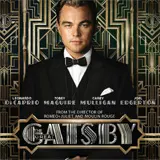 Baz Luhrmann's era-blending big screen interpretation of The Great Gatsby starring Leonardo DiCaprio, Tobey Maguire, Carey Mulligan, Joel Edgerton and Isla Fisher is set to make its Blu-ray 3D, Blu-ray and DVD debut on Tuesday, August 27. Thanks to Warner Home Video, we are hooking up a trio of readers with the film in its Blu-ray and DVD combo pack incarnation.
For a chance to win The Great Gatsby on Blu-ray and DVD, please fill out and submit the short entry form below. You can optionally return any or every day the contest is open to enter again and increase the odds of winning with each and every additional entry. You must be a resident of the U.S. or Canada to enter.
The Great Gatsby follows would-be writer Nick Carraway as he leaves the Midwest and comes to New York City in the spring of 1922, an era of loosening morals, glittering jazz, bootleg kings, and sky-rocketing stocks. Chasing his own American Dream, Nick lands next door to a mysterious, party-giving millionaire, Jay Gatsby, and across the bay from his cousin, Daisy, and her philandering, blue-blooded husband, Tom Buchanan. It is thus that Nick is drawn into the captivating world of the super rich, their illusions, loves and deceits. As Nick bears witness, within and without of the world he inhabits, he pens a tale of impossible love, incorruptible dreams and high-octane tragedy, and holds a mirror to our own modern times and struggles.