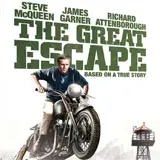 MGM's World War II classic adventure The Great Escape starring Steve McQueen, James Garner, Charles Bronson, and James Coburn is speeding onto Blu-ray for the first time on May 7 in celebration of the film's 50th anniversary. Thanks to the fine folks at MGM Home Entertainment, we have two copies of The Great Escape on Blu-ray that will be awarded to a pair of lucky readers in this contest.
All you have to do for a chance to win The Great Escape on Blu-ray is fill out and submit the short entry form below. The odds of winning can be increased each day you stop back to enter again for as many days as the contest is open. You must be a resident of the U.S. or Canada to enter.
Based on a true story set in 1943, the Germans opened a maximum-security prison-of-war camp, designed to hold even the craftiest escape artists. By doing so, they unwittingly assembled the finest escape team in military history – brilliantly portrayed by Steve McQueen, James Garner, Charles Bronson, and James Coburn – who worked on what became the largest prison breakout ever attempted. The Blu-ray comes fully loaded with over three hours of special features including commentary with Director John Sturges and crew, multiple making of featurettes, the original theatrical trailer and more.
Here are some additional great World War II movies that are also now available on Blu-ray.
Patton
Winner of seven 1970 Academy Awards, including Best Picture and Best Actor for George C. Scott, Patton is a riveting portrayal of one of the twentieth century's greatest military geniuses. As rebellious as he was brilliant, George Patton (Scott) was the only general truly feared by the Nazis, yet his own volatile personality was the one enemy he could never defeat.

Empire of the Sun
Empire of the Sun is a 1987 coming of age war film based on J. G. Ballard's semi-autobiographical novel of the same title. Steven Spielberg directed the film, which stars a young Christian Bale alongside John Malkovich and Miranda Richardson. The film tells the story of Jamie "Jim" Graham, a young boy who goes from living in a wealthy British family in Shanghai, to becoming a prisoner of war in Lunghua Civilian Assembly Center, a Japanese internment camp, during World War II.

Tora! Tora! Tora!
Tora! Tora! Tora! was the winner of the 1970 Academy Award for Best Special Effects, and was nominated for four more Oscars, including Best Art Direction, Best Cinematography, Best Editing and Best Sound. The film is a dramatization of the days leading up to the Japanese attack on Pearl Harbor, and the event which signaled America's official entry into WWII.

The Thin Red Line
1998's The Thin Red Line marked Terrence Malick's return to filmmaking after a 20-year hiatus. The film is based on the novel of the same name by James Jones, and it tells a fictional story of the Battle of Mount Austen in World War II. It portrays soldiers of C Company, 1st Battalion, 27th Infantry Regiment, 25th Infantry Division. The film was nominated for an outstanding seven Academy Awards.

Saving Private Ryan
Saving Private Ryan is a 1998 film set during the invasion of Normandy in World War II. The film is highly lauded for its graphic and realistic portrayal of war, specifically the opening 27 minutes, which depicts the Omaha Beach assault on June 6, 1944. The film was nominated for 11 Academy Awards, and won five of them, including Best Director.