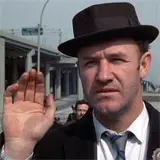 New to Blu-ray and up for grabs in this contest is The French Connection and French Connection II starring Gene Hackman as "Popeye" Doyle on Blu-ray Disc.
We have five sets of the two French Connection films that will be given away as sets to five lucky winners. For a chance to win a French Connection Blu-ray set, fill out and send in the completed form below. You can return every day the contest is running and enter again to up the odds of winning with each additional entry.
New York City detectives Popeye" Doyle (Gene Hackman) and Buddy Russo (Roy Scheider) hope to break a narcotics smuggling ring and ultimately uncover The French Connection. But when one of the criminals tries to kill Doyle, he begins a deadly pursuit that takes him far outside the city limits. Based on a true story, this action-filled thriller won five Academy Awards in 1971, including Best Picture, Best Director (William Friedkin) and Best Actor for Hackman.
While The French Connection was only the beginning… French Connection II is the climax! Directed by cinematic visionary John Frankenheimer (The Manchurian Candidate, Ronin), the action moves overseas to Marseilles where Doyle is tracking the one drug trafficker that eluded him in New York. After being held captive and tortured by the man he pursues, he enlists the help of the French police and the pulse-pounding chase is on once again.