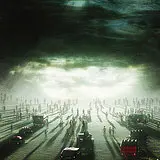 In addition to giving away five copies of The Day the Earth Stood Still on Blu-ray Disc, I've got three sets of the remake starring Keanu Reeves on DVD also up for grabs.
All you have to do for a chance to win one is send in the completed entry form below. Returning daily to enter again is encouraged as each entry increases your odds of winning.
About The Day the Earth Stood Still: Keanu Reeves portrays Klaatu, an otherworldly being whose arrival on Earth triggers an unstoppable series of events that threaten all of mankind. In a desperate attempt to save humanity, governments and scientists race to unravel the mystery behind the visitor's appearance. When a woman (Jennifer Connelly) and her young stepson find themselves embroiled in the alien's plan, they become the world's only hope to stave off apocalyptic annihilation.