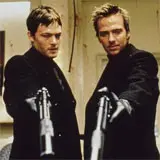 Fox Home Entertainment has just released The Boondock Saints on Blu-ray Disc in high definition audio and video. We have five copies of the disc ready to issue to the winners of this contest.
To be eligible to win The Boondock Saints on Blu-ray, simply fill out and send in the electronic entry form below. Returning daily to enter again for every day the contest is running is encouraged as each additional entry will increase your odds of winning.
About The Boondock Saints: Irish brothers Connor and Murphy MacManus live and work in South Boston. After killing a Russian mobster in self-defense, the brothers believe they have found their calling from God ridding the earth of human evil. So they set out to complete their divine deed by ridding the streets of gangsters, criminals and lowlifes; and as the body count rises, the brothers become local heroes even as the police are on their trail. By risking their lives for their beliefs of Veritas (truth) and Aequitas (justice), the vigilante brothers take the law into their own hands… until they are pursued by unorthodox FBI agent Paul Smecker who follows their trail of bloodshed, but admits that the boys are doing exactly what he has always secretly wished to happen.