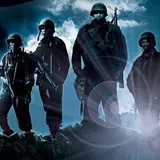 Spike Lee's latest joint is his first foray into World War II that follows four members of the Buffalo Soldiers at the height of the war. The film, Miracle at St. Anna, is now available on DVD and Blu-ray Disc and we have five copies of the DVD looking for a new home.
For a chance to win one of the five Miracle at St. Anna DVDs, send in the completed entry form below. Repeat entries on a one-per-day basis are encouraged for as long as the contest is running to increase your odds of winning. Good luck!
About the film: From award-winning filmmaker Spike Lee comes Miracle At St. Anna, the story of four black American soldiers who are members of the US Army as part of the all-black 92nd Buffalo Soldier division stationed in Tuscany, Italy during WWII. They experience the tragedy and triumph of war as they find themselves trapped behind enemy lines and separated from their unit after one of them risks his life to save an Italian boy.