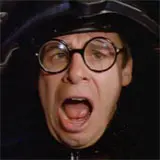 The Mel Brooks classic Star Wars spoof Spaceballs has completed its jump through hyperspace from DVD to Blu-ray Disc and brought a slew of bonus features along for the ride to high definition.
I have up for grabs five sets of Spaceballs on Blu-ray ready for a new home. To take a shot at winning one, simply fill out and send in the form below. Optionally return any or every day the contest is running to enter again.
Comedy legend Mel Brooks teams with an all-star cast of cutups including John Candy (Splash), Rick Moranis (Ghostbusters) and Bill Pullman (Ruthless People)! When the evil Dark Helmet (Moranis) attempts to steal all the air from planet Druidia, a determined Druish Princess (Daphne Zuniga), a clueless rogue (Pullman) and a half-man/half-dog creature who's his own best friend (Candy) set out to stop him! But with the forces of darkness closing in on them at ludicrous speed, they'll need the help of a wise imp named Yogurt (Brooks) and the mystical power of "The Schwartz" to bring peaceand merchandising rights to the entire galaxy!