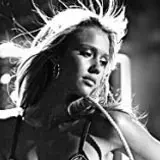 One of Miramax's first originally planned Blu-ray Disc releases, Sin City, is about to finally see the light of day after more than two years worth of delays. You can win one of three copies of Sin City we're giving away courtesy of Buena Vista by entering this contest.
Submitting an entry is as easy as filling out the form below. Returning any or every day the contest is active is strongly encouraged as each additional entry increases your odds of being picked a winner. Good luck!
About Sin City: If ever a movie was meant to be experienced in high definition, Frank Miller's SIN CITY is guilty on all counts! A groundbreaking masterpiece of mayhem, SIN CITY roars to life with both barrels blazing in this Blu-ray Disc set that includes the restored theatrical feature and the Recut, Extended, Unrated Release. This jam-packed 2-disc powerhouse explodes with all-new bonus including KILL 'EM GOOD interactive Comic Book and Cine-Explore, a behind-the-scenes picture-within-a-picture commentary. Robert Rodriguez (DESPERADO, FROM DUSK TILL DAWN), Frank Miller (THE SPIRIT) and Quentin Tarantino (KILL BILL 1 and 2, PULP FICTION) direct an amazing cast of big-screen favorites (Bruce Willis, Jessica Alba, Mickey Rourke, Clive Owen, Brittany Murphy, Benicio Del Toro, Rosario Dawson and more!) in this acclaimed and visually stunning hit that's straight from the pages of Miller's hip series of "Sin City" graphic novels. Strap yourself in as a staggering sensory onslaught hits you right where you live. From the stylized, razor-sharp clarity of the unique, high definition visuals to the throbbing, phenomenally intense sounds of bullets spraying and bones crunching, this awesome, mind-bending excursion into a sexy, twisted funhouse of cops, killers, hookers and hit men will tease, tantalize and thrill you as never before in Blu-ray Disc High Definition.