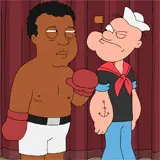 New from Fox Home Entertainment on Blu-ray Disc is Seth MacFarlane's Cavalcade of Cartoon Comedy, from the man behind Family Guy and American Dad.
We have five copies of this new uncensored release looking for a new home, one of which could be yours if your name is chosen as a winner. To enter this contest, send in the completed form below. Optionally return every or any day the contest is running to enter again. Good luck!
Seth MacFarlane, the creator of Family Guy and American Dad, brings you the Cavalcade of Comedy – non-stop, uncensored laughs with never-before-seen, exclusive new episodes – too outrageous for TV or the Iinternet!