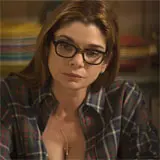 Saving Grace: Season Two will arrive in stores on June 16 to continue the emotionally turbulent investigations by detective Grace Hanadarko.
Thanks to the kind folks at Fox, we have three copies of Saving Grace: Season Two on DVD that will be handed out to the randomly selected winners of this contest. For a chance to win one, fill out and send in the short form below. Return any or every day the contest is still running to enter again and increase your odds of winning. Good luck!
About Saving Grace: Hard-edged police detective Grace Hanadarko is certainly no angel, but she has one on her shoulder. Academy-Award winner Holly Hunter returns as Grace, a no-nonsense cop whose fierce dedication to her job belies her self-destructive lifestyle. Taking on kidnappings, homicides, and the dark specter of the Oklahoma City bombing, Grace receives celestial guidance from a gruff guardian angel who may be her last chance for salvation. Meanwhile, Ham, Grace's partner and sometime lover, faces a staggering crisis that threatens his job, his relationships, and even his life. Dramatically engaging, darkly funny, and emotionally gripping, Saving Grace is television at its most transcendent—don't miss it!