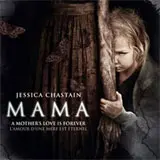 Freshly released on Blu-ray and DVD is the horror thriller Mama starring Jessica Chastain (Zero Dark Thirty) and Nikolaj Coster-Waldau (HBO's Game of Thrones). The Guillermo del Toro-produced film is the story of two missing girls whose deceased mother follows them into their new home after they are found. If it sounds like your cup of tea then you'll love what comes next.
We have teamed up with Universal Studios Home Entertainment to offer five lucky readers the Mama Blu-ray and DVD combo pack in this contest. Simply fill out the short entry form below for a chance to win. The odds of winning can be increased each and every day you stop back to enter again. You must be a resident of the U.S. or Canada to enter.
Guillermo del Toro, the Academy Awardr-nominated writer of Pan's Labyrinth, presents this supernatural thriller that tells the haunting tale of two little girls who disappeared into the woods the day that their parents were killed. When the young sisters are found alive in a decrepit cabin, their uncle (Nikolaj Coster-Waldau, Game of Thrones) and his girlfriend (Oscarr nominee Jessica Chastain, Zero Dark Thirty) take them in. As they try to introduce the children to a normal life, Annabel (Chastain) begins to wonder if the traumatized girls are the only guests they have welcomed into their home.