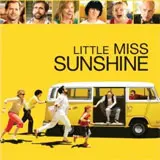 New from Fox Home Entertainment and now available in stores is the indie road trip hit Little Miss Sunshine on Blu-ray Disc, the first appearance for the film on home video in high definition.
We're giving away five copies of this new release to the five winners of this contest. For a chance to see Little Miss Sunshine on Blu-ray show up in your mailbox, fill out and send in the completed form below. We encourage returning every day the contest is running to enter again and increase your odds of winning.
The brazenly satirical and yet deeply human road trip comedy includes an all-star cast of today's most versatile actors including Steve Carell, Greg Kinnear, Toni Collette, Alan Arkin, Paul Dano and Abigail Breslin.