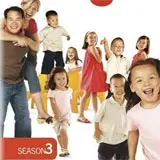 Our contest for TLC's Jon and Kate Plus Ei8ht seasons 1 and 2 on DVD was a big hit so we figured why stop there? This time we've got the entire third season on DVD ready to hand over to five lucky readers.
Fill out the entry form below and send it in for a chance to win. Increase your odds of winning by returning any day the contest is active to enter again.
About the show: When the Gosselins dreamed of having a family, nonstop chaos wasn't exactly what they envisioned. But the arrival of a set of twins and a set of sextuplets within five years has added up to Jon & Kate plus 8. And their dream family has turned into a mind-boggling juggling act. Season 3 continues to take you into the lives of this unusual and amazing family as they experience the havoc, the challenges and the joys of raising multiples. Sometimes it's a comedy, sometimes it's a drama, but it's always an adventure!