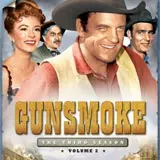 You can wrap up the third season of Gunsmoke on DVD by winning one of five sets of season three volume two we have up for grabs in this daily entry contest.
Putting your name in the cowboy hat for a chance to win is accomplished by completing the form below. A betting man prefers better odds which can be acquired by returning any or every day the contest is running to enter again.
About Gunsmoke: Matt Dillon (James Arness) is in charge of Dodge City, a town in the Wild West where people often have no respect for the law.