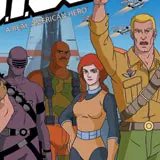 On July 21, Shout! Factory is joining forces with Hasbro to bring back the old G.I. Joe cartoons with the release of season 1.1 on DVD priced at $29.99 SRP timed with the upcoming release of G.I. Joe: The Rise of Cobra in theaters August 7.
I have three sets of G.I. Joe: Season 1.1 to give away in this daily entry contest. For a chance to win, simply send in the completed entry form a minimum of one time. Additional entries are allowed once per day as long as the contest is running.
A must-have for any aspiring hero, the 4-DVD box set features the first 22 episodes, including the three 5-part mini-series The M.A.S.S. Device, The Revenge of Cobra and The Pyramid of Darkness. It also features a special Snake Eyes and Storm Shadow tattoo from the Arashikage ninja clan and other exciting bonus content.
G.I. JOE is an elite group of special operatives, fighting for freedom wherever there's trouble. In this animated series based on characters from Hasbro's popular line of 3 ¾" action figures, the G.I. JOE team will stop at nothing to defeat COBRA – an enemy with the singular goal of world