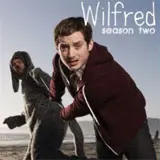 Fox Home Entertainment has just released the FX show Wilfred: Season 2 on Blu-ray and DVD. Starring Elijah Wood and Jason Gann, Wilfred is the bizarre tale of a depressed man and his next door neighbor's dog whom only he sees as a full grown dude wearing a dog suit. It must be seen to be believed.
We are awarding one lucky reader the new Wilfred: Season 2 Blu-ray edition in this daily entry contest. For a chance to win, please fill out and submit the short entry form below. The odds of winning can be increased each and every day you stop back to enter again for as many days as the contest is open. You must be a resident of the U.S. or Canada to enter.
Elijah Wood and Jason Gann return for another fearlessly funny season of Wilfred… the story of a dog and his man. Season two finds Ryan making a fresh start with a real job and a new girlfriend. But with Wilfred's help, Ryan discovers he still has a lot to learn about life, including "squishy" viral videos and the on-going cuteness war between dogs and babies.

The Season two Blu-ray and DVD boast hilarious special features, including outrageous bloopers and deleted scenes, and a very special Wilfred/Ryan Mash-up.