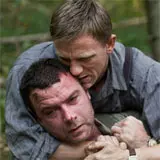 Daniel Craig, Jamie Bell and Liev Schreiber star in Defiance, a film based on true events where simple farmers fought back during WWII against the Nazi regime.
Defiance is now available on DVD and Blu-ray Disc, and I have three copies of the DVD version up for grabs in this contest. For a chance to win one, simply fill out a send in the form below. Returning daily to enter again is encouraged to increase the odds of being chosen.
Daniel Craig stars as Tuvia Bielski, an ordinary citizen turned hero, in this action-packed epic of family, honor, vengeance and salvation. Defiance is a riveting adventure that showcases the extraordinary true story of the Bielski brothers, simple farmers –outnumbered and outgunned- who turned a group of war refugees into powerful freedom fighters. Tuvia, along with his unyielding brother, Zus (Liev Schreiber), motivate hundreds of civilians to join their ranks against the Nazi regime.