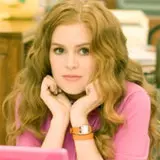 On June 23, the Isla Fisher comedy Confessions of a Shopaholic will barter its way onto DVD and Blu-ray Disc with more bonus features than you can wave a credit card at.
In this contest to support the release, we are giving away 1 copy of the DVD and 1 copy of the Blu-ray version for a total of two winners. Send in the completed entry form below for a chance to win. Better yet, return daily while the contest is running to enter again and increase the odds with each entry.
Fall in love with the adorable Becky Bloomwood (Isla Fisher) in the hilarious romantic comedy Confessions Of A Shopaholic. Becky s desperate for a job writing for a high-fashion magazine in glamorous New York. She gets her stilettos in the door writing a personal finance column at a sister publication. Much to her surprise, her column, The Girl In The Green Scarf, becomes a hit, and she falls head over high heels for her handsome, overworked boss (Hugh Dancy). But Becky has a secret that leads to some hilarious high jinks that could unravel it all. From the best-selling novel, and featuring the perfect comedic cast, it s the feel-good romantic comedy you ll fall in love with over and over.