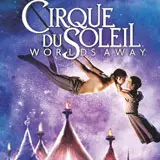 Cirque Du Soleil has become world renowned for their lavish live and filmed shows. With Cirque Du Soleil World's Away, filmmakers James Cameron and Andrew Adamson have woven together acts from their seven Las Vegas shows and connected them into a singular story to create a feature film.
Cirque Du Soleil World's Away is now available to own on Blu-ray 3D, Blu-ray and DVD. For a limited time, purchasing any version will entitle you to 20% off a ticket to a Cirque Du Soleil live show.
We have teamed up with Paramount Home Entertainment to offer three extremely lucky readers the Blu-ray 3D, Blu-ray and DVD combo pack of Cirque Du Soleil World's Away in this contest. To take a shot at winning one of them, please fill out and submit the short entry form below. The odds of winning can be increased each day you stop back to enter again for as many days as the contest is open. The more entries, the better the odds. You must be a resident of the U.S. or Canada to enter.
Visionary filmmakers James Cameron (Avatar) and Andrew Adamson (Shrek) invite you on a spectacular adventure unlike anything you've seen before. Leap, soar, swim and dance with the legendary performers of Cirque du Soleil as they transport a young couple on a journey worlds away and beyond imagination.