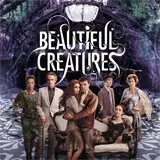 Director Richard Lagravenese's big screen adaptation of Beautiful Ceatures makes its Blu-ray and DVD debut on May 21. Starring Alden Ehrenreich, Alice Englert, Jeremy Irons, Viola Davis and Emmy Rossum, Beautiful Creatures is based off the young adult novel by Kami Garcia and was released in theaters earlier this year.
We have teamed up with Warner Home Video to offer three readers the Blu-ray and DVD combo back of Beautiful Creatures in this contest. For a chance to win one, simply fill out and send in the short entry form below. The odds of winning can be increased each and every day you stop back to enter again for as many days as the contest is open. You must reside in the U.S. or Canada to enter.
When newcomer Lena Duchannes arrives in the small town of Gatlin she quickly captures the attention of Ethan Wate, who only wants to escape what he views as a boring and dead end town. He quickly gets more than he bargained for, as Lena possesses strange powers that have long kept her at a distance from others in her life. Lena and Ethan are drawn together, but their budding romance is threatened by the dangers posed by Lena's being a Caster and her family's Dark powers, for upon her sixteenth birthday Lena must undergo the Claiming, a process that will decide her fate forever: Light or Dark.