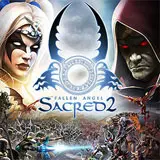 Today I have a fantastic giveaway for you guys built around the newly released Sacred 2: Fallen game for Xbox 360 and Playstation 3.
One grand prize winner will receive an Xbox 360 game console(!), Sacred 2: Fallen Angel game for Xbox 360 and some Sacred 2 swag.
One runner up winner will receive a copy of Sacred 2: Fallen Angel game for either Xbox 360 or Playstation 3 (version of the winner's choice) and some Sacred 2 swag.
To enter this contest you must live within the United States and send in the completed form below. With a multi-hundred dollar jackpot at stake, be sure to return each and every day this contest is running to enter again. Each additional entry increases your odds of winning tremendously. Good luck!
About Sacred 2: Fallen Angel: For an era, it was the angelic Seraphim who watched over the T Energy (forms the beginning of all life, it is the source of all magic and the origin of all thought). They passed their knowledge on to the High Elves, so that they could benefit from T Energy. But the High Elves let the power over T Energy tear their society apart, and war and strife broke out. Worse than that, the T Energy itself went out of control, turning negative and creating destructive evil in the land. The nobility as well as the clerical caste of the High Elves struggled to seize power over the high-elvish imperium, so that they alone might hold the T Power in their rule. The land once more faced with war; a war that was much larger, and more far-reaching consequences than all previous wars and battles. Two thousand years before Shaddar the cry for heroes arises to avert this war and to regain control over the T Energy. Will those heroes prevent the world lapsing into final chaos, or will they instead deepen it with their actions? Deities offer unique combat disciplines and unlock additional quests Seamless transition between single and multiplayer gaming modes Challenge gamers online in cooperative PvP (Player versus Player) & PvE (Player versus Environment) Cutting-edge graphics and Dolby 5.1 channel surround sound uses the latest technologies to deliver an immersive experience.