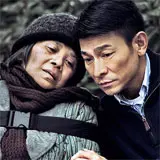 On February 26, Well Go USA will release the critically acclaimed Hong Kong film A Simple Life in North America on Blu-ray and DVD.
A Simple Life is the tale of a movie producer Roger (Andy Lau) and his family's nanny Ah Tao (Deanie Ip). When the nanny suffers a stroke, Roger agrees to help her relocate to a nursing home, and ultimately becomes Ah Tao's caregiver in a reversal of roles.
Thanks to Well Go USA, we are awarding three lucky readers A Simple Life on Blu-ray in this contest. All you have to do for a chance to win one is fill out and submit the entry form below. You can increase the odds of winning each day you stop back to enter again. You must be a resident of the U.S. or Canada to enter.
Roger (Andy Lau) is a successful movie producer. Ah Tao (Deanie Ip) has worked for Roger's family as a nanny and maid over the course of four generations. When Roger comes home to find Ah Tao's suffered a severe stroke and is unable to care for herself, he agrees to help her relocate to a nursing home.

He wants to help, but fears he'll fail her. She needs his kindness, but doesn't want to be a burden. As their roles reverse, he becomes her caregiver, and comes to understand how much she means to him.

One of 2012's most heralded and treasured films, with cameo appearances from film luminaries such as Sammo Hung and Tsui Hark, A SIMPLE LIFE has garnered multiple awards for Deanie Ip (Best Actress), Andy Lau (Best Actor), Susan Chan (Best Screenplay), and Ann Hui (Best Director). A SIMPLE LIFE has also won Best Feature Film in multiple festivals and made film critics' Top 10 lists all over the world.