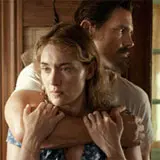 Jason Reitman's Labor Day starring Kate Winslet and Josh Brolin made its Digital HD debut on April 15 and will arrive on Blu-ray and DVD on April 29. The love story is timed to coincide with Mother's Day and includes a commentary by Reitman and two members of his crew, a making-of featurette, deleted scenes, and a special bonus of $10 off flowers for Mother's Day, which if taken advantage of would make the Labor Day Blu-ray nearly free if purchased.
Thanks to Paramount Home Entertainment we are awarding one lucky grand prize winner a Labor Day Blu-ray combo prize pack that includes the film on Blu-ray, DVD and Digital HD, a Peach Pie kit and the book signed by author Joyce Maynard. A runner-up winner will take home the Labor Day Blu-ray, DVD and Digital HD combo pack.
For a chance to win, please fill out and submit the short entry form below. The odds of winning can be increased each and every day you enter again for as many days as the contest is open. You must be a resident of the U.S. or Canada to enter.
From writer/director Jason Reitman, the Academy Awar-nominated director of Up In The Air and Juno, comes a story of a mother and son who take in a mysterious stranger over a long Labor Day weekend, leading to a second chance at love.