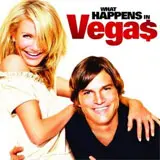 On August 26, Fox Home Entertainment will release the new comedy What Happens in Vegas starring Ashton Kutcher and Cameron Diaz on DVD and Blu-ray Disc. Thanks to Fox, we've got two copies of the DVD to dish out to the randomly drawn winners of this contest.
Putting your name in the virtual hat to win is as easy as sending in the completed entry form below. If you want a better chance at learning What Happens in Vegas, return each day and enter again for as long as the contest is running. Good luck!
About What Happens in Vegas: After the wildest party night of their lives, two mismatched strangers, Jack (Ashton Kutcher) and Joy (Cameron Diaz), wake up in Vegas to discover they not only got lucky… they got married! The road to annulment takes a hilarious turn after Jack wins a three-million-dollar jackpot while playing Joy's quarter and a no-nonsense judge (Dennis Miller) sentences them to six months hard marriage. What follows is an all-out war of the sexes as Jack and Joy go to outrageous lengths to try and cheat each other out of the money. But in the end, they may learn that when you gamble on love, you just might win, against all odds!